For decades, the relationship between milk producer groups and the International Dairy Foods Association (IDFA), which represents milk processors, was tenuous at best. Relations soured even more when the Dairy Market Stabilization Program was proposed for the recently failed farm bill and have gone downhill ever since.
That's understandable, since higher milk prices for producers would mean higher raw product costs for processors. Producer groups say farmers need higher prices in order to survive; IDFA says they would raise retail dairy product prices and hit families and lower-income consumers the hardest.
Higher producer prices would also probably cut into processor profit margins, but I have yet to see IDFA say anything about that.
Whether intended or not, a recent attack of the program by IDFA president and CEO Connie Tipton (pictured here) only makes things worse. It also reconfirms the belief by many producers that IDFA has zero interest in working with them to find a compromise that both sides can live with.
A guest column written by Tipton in the August 25, 2013, edition of
The Oakland Press
is what did it. Its headline was: "U.S. Senate's plan to increase milk prices won't be good for anyone."
Like heck. Dairy producers are more than just someone and higher prices would unquestionably be good for them, because they desperately need higher prices to stay alive. IDFA would benefit, too, because without a healthy producer industry it is impossible to have a healthy processor industry.
Whatever her message was meant to say, it was obscured by the headline – a headline that said dairy producers are nobodies.
---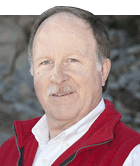 The author has served large Western dairy readers for the past 36 years and manages Hoard's WEST, a publication written specifically for Western herds. He is a graduate of Cal Poly-San Luis Obispo, majored in journalism and is known as a Western dairying specialist.