Take heart U.S. milk producers, your farms aren't alone in seeing the cost of production soar during the 21st century. All around the world, most dairy operators have felt the same pain.
According to the International Farm Comparison Network (IFCN), the cost gap between major milk-producing countries closed dramatically in the last 12 years, especially between the U.S. and New Zealand. Kiwi production costs nearly tripled during that time due to high land and labor costs, repeated droughts, and unfavorable currency exchange rates.
New Zealand's production costs are still lower on average, but not dramatically. It's a big reason why U.S. dairy exports have soared and why they figure to continue to do so for the foreseeable future.
IFCN's latest report on global production costs in 2012 is stated in U.S. dollars per hundred kilograms (220.5 pounds) for an average size farm in each country. It says the world's cheapest milk is made in Cameroon, where it comes from beef cows and is a by-product of producing meat. Its production cost works out to just $1.82 per hundredweight.
The next lowest cost country in the world, according to the map above, is Uganda. Other very inexpensive producers are Chile, Peru and Saudi Arabia.
Japan has the highest production cost in the world at about $58.05 per hundredweight. Other very expensive countries include Canada, Mexico, France, Sweden, Norway and Denmark.
According to the report, the gap between the U.S. and New Zealand has narrowed because New Zealand has almost caught up. Average Kiwi production costs rose from about $5.44 per hundredweight in 2000 to $15.87 in 2012, while average U.S. costs were calculated at $18.78. The report noted, however, that California had lower production costs than New Zealand's average.
The world's biggest dairy product exporters (milk equivalent basis) are New Zealand, the European Union and the U.S. Australia is a distant fourth.
Click here
for a downloadable copy of the report's overview.
---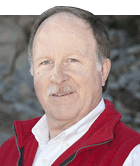 The author has served large Western dairy readers for the past 36 years and manages Hoard's WEST, a publication written specifically for Western herds. He is a graduate of Cal Poly-San Luis Obispo, majored in journalism and is known as a Western dairying specialist.