The Hoard Farm team headed up by Jason Yurs continues to be pleased with the performance of young sires' daughters. On December 13, a number of young bulls had daughters either scored for the first time . . . or very early in the evaluation process.
Ripley Farms Aaron Cordell, a young bull with 11 daughters in his production proof, has four appraised at the Hoard's Dairyman Farm: 85, 81, 77 and 76, respectively. Cordell's daughters ranged from 86 to 77 on feet and legs scores, from 86 to 76 in the udder.
Our first three Dairyman Rhinestone daughters now have classification scores, as well. The trio averages 78 overall with 81.3 feet and leg scores. Solid feet and legs are a trademark of Rhinestone's cow family which has three generations milking on the farm.
Other young sires with a daughter receiving scores included: Marodore Aarons Levi, 86 (
click here
to see a photo of the cow); Indian Acres Pies, 84 (
click here
to see photo); Jens Gold Aaron Crunch, 83; Marodore Yogis Latte, 82; Idle Gold A Charlie-ET, 81; Ripley Farms Mr A Carter, 81; Jens Gold Aaron Copper, 80; Idle Gold N Carson, 79; Springhill J Lone Star, 79; and Idle Neer Foremost, 77.
After reviewing the data, the Hoard Farm ended up with 256 appraised Guernseys:
19 Excellent (90 points and higher)

151 Very Goods (80 to 89 points)

85 Desirable (70 to 79 points)

1 Acceptable (60 to 69 points)
The 256 Guernseys averaged 81.6 points overall; udders averaged 81.7; feet and legs were 81.1. The milking herd averages 2.25 lactations. Classification scores by age group are as follows:
104 first-lactation cows: 79.6 final score, 80.6 udder, 80.1 feet and legs

74 second-lactation cows: 81.2 final score, 80.9 udder, 81.0 feet and legs

32 third-lactation cows: 83.1 final score, 82.3 udder, 81.4 feet and legs

46 fourth-lactation and greater cows: 85.7 final score, 85.3 udder, 83.9 feet and legs
On January 21, we will have our Jersey herd appraised.
---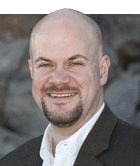 The author is the managing editor, and he brings 18 years of industry leadership to our readers overseeing all editorial content and production of the magazine. His degree from the University of Wisconsin-Madison combined dairy science and agricultural economics