If robots are the next evolution of milking cows on a large scale, then the future is here already. Except it is happening slowly and not at all in the U.S. . . . yet.
Several companies have sold single- or multiple-stall robotic systems since the 1980s, but all have been aimed at small dairies. DeLaval is the only firm that has married robotic technology to the rotary parlor format that is popular with big herds. At the heart of its automatic milking rotary (AMR) system is a computer that controls multiple robots to perform teat preparation, milking unit attachment and postmilking teat spraying for up to 24 stalls.
The company has been selective about who buys the systems, like the one seen in the photo above. Even so, 2014 has been a banner year, and the total number of units in operation and awaiting installation is now up to 11, according to a recent press release. Herd sizes range from 300 to 850 cows.
The first commercial AMR system was installed in Australia in 2011 and the second one in Germany in 2013. Here is the breakdown of all 11 locations:
Sweden – 4
Germany – 3
Australia – 3
Finland – 1
"Typically, we are noticing a reduction in the global number of dairy farmers while the number of cows being milked per farm is growing," said Robert Jensen, AMR business development manager. "Farmers are looking to manage these larger herds in more profitable ways, and we, as a company, can apply our innovative knowledge and leadership in order to help satisfy those requirements."
Asked what the outlook is for AMR technology to come to the U.S., a DeLaval spokesperson said the company "actively continues the development of AMR solutions for other markets with varied technical requirements and regulations such as the U.S. Our significant experience with AMR, as well as our voluntary milking system (VMS), has served to allow for the discovery of possibilities we believe will be very interesting to the U.S. over the coming year."
---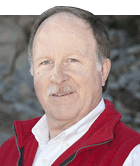 The author has served large Western dairy readers for the past 37 years and manages Hoard's WEST, a publication written specifically for Western herds. He is a graduate of Cal Poly-San Luis Obispo, majored in journalism and is known as a Western dairying specialist.