At 7 a.m. on a typical June day, most young people are still in bed enjoying the start to their summer vacation. Members of the Barnyard Clovers 4-H club are not among the late risers. Almost every June morning at 7:00 a.m. on the Hoard's Dairyman Farm, the club members are feeding, watering and cleaning up after their show heifers.
The Barnyard Clovers club members enjoy the look of their freshly bedded show cattle. Club members from left to right include Nick Yunker, Dawson Yurs, Victoria Yurs, Hannah Beckman and Ava Kleman. Members not pictured include Kayla Beckman, Ryan Messler and Aaron Messler.
Seven of the clubs members and one young lady involved in the FFA program lease cattle from the farm as part of their project. Beginning shortly after school releases for the year, they are responsible for feeding, training and grooming the animals. Morning chores take about an hour with the young people all pitching in to help. They return again in the afternoon to feed and clean, and on hot days, they water midday.
Like many 4-H clubs, the members represent a wide range of ages and experiences from Aaron Messler, who is participating in future showmanship, to Kayla Beckman, who has shown for 10 years. For six of the young people, this is their only opportunity to work with dairy cattle since they have not grown up on dairy operations.
"The project has taught me about responsibility," Nick Yunker, a club member said. "The cows have to be taken care of everyday."
Each member claims an important role in the morning chores with the older members offering advice and assistance to the younger members. Last year, every club member who exhibited at the county show also helped a young person show in the future showmanship class.
Nick along with fellow club member Dawson Yurs have also picked up skills in the area of fitting, learning how to blow up and clip toplines on show day.
For club member Victoria Yurs, patience has been among the many important lessons she has gleaned beside the straw pack, especially while working with cows that don't cooperate.
All of the club members hard work and preparations climax today as the young people compete in the Jefferson County junior dairy show beginning at 8:30 a.m.
Ryan Messler runs the wheelbarrow as Hannah Beckman and Ava Kleman locate and clean out the soiled bedding.
---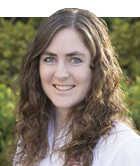 The author is the 26th Hoard's Dairyman editorial intern. This fall she will be a senior at Kansas State University in Manhattan, Kan. At KSU, Maggie is double majoring in agricultural communications and journalism and animal sciences and industry. Seiler grew up on a 130-cow registered Holstein dairy in Valley Center, Kan., near Wichita.