What a crazy, incredible turnaround.
Huge 2014 crop outlooks in the U.S. and other major grain-producing countries have destroyed the high prices for feed grains that made life so painful for anyone with livestock to feed just two years ago. Corn, soybean and wheat farmers were on the top of the world in 2012; now they're hoping to break even.
Two years ago, prices at the Chicago Board of Trade peaked at $8.40 per bushel for corn, $9.42 for wheat, and almost $18 for soybeans. Feeding cows was hazardous - no, dangerous - to everyone's financial health.
Compare those to prices at the close of trading two days ago: December contract corn was $3.72 (down 56 percent), September wheat was $5.27 (down 44 percent) and November soybeans were $10.80 (down 40 percent). Prices of all three were generally at, or set new 52-week lows, throughout July.
Those about-faces came despite early season drought worries in Brazil and worldwide angst about Russia's invasion of Ukraine; both Brazil and Ukraine are top 10 global exporters of all three crops. However, those concerns have been trumped by bumper crop projections in the U.S. on a scale that has led to headlines such as "U.S. corn glut expanding," "Corn avalanche coming," and "The world is drowning in corn."
USDA's July 11 forecast predicted an 8 percent increase in global corn stocks to their highest level in 15 years, most of it coming from the U.S. The 2014 U.S. corn crop is on track to be the second biggest in history, while soybeans are well on their way to setting a new record.
Even though harvest is still a long way off, farmers already have headaches about whether to store the crops or dump them on the market, likely driving prices even lower. Many stored part of last year's crop in the hope that prices would rebound this year, so bin space is already short.
---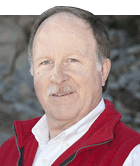 The author has served large Western dairy readers for the past 37 years and manages Hoard's WEST, a publication written specifically for Western herds. He is a graduate of Cal Poly-San Luis Obispo, majored in journalism and is known as a Western dairying specialist.