A staggering picture of just how big China's demand for dairy products already is – and how much bigger it is expected to be in less than a decade – is painted by two recently released forecasts about global dairy demand.
Even though dairy foods are not part of traditional Chinese diets and per-person consumption is tiny by U.S. standards, China is already the world's number one dairy products importer, accounting for about one-sixth of everything that is sold.
But recent studies by the International Farm Comparison Network (IFCN) in Germany and the Canadean Group in England say China's dairy demand is going to get much, much bigger.
In just four years, Canadean thinks the total value of the Chinese dairy market will be $60.6 billion per year, the biggest in the world. By comparison, total cash receipts from all milk marketings in the U.S. in 2013 were just $40.3 billion according to USDA.
Meanwhile, IFCN predicts that by 2024 China's dairy consumption will be 40 billion pounds per year higher than it is today, as more of the population moves to cities and as older citizens turn to high protein, high calcium dairy foods to stave off diseases such as osteoporosis. Forty billion pounds is approximately all of what California (or New Zealand) currently produces.
The U.S. Dairy Export Council predicts that Chinese dairies will supply some of this new demand, but not nearly all of it – especially if consumer confidence about safety and purity continues to be higher for imported products.
The message here is, dairy farmers in the U.S. and around the world will likely be hard-pressed to keep up with the already voracious demand for dairy products in China.
---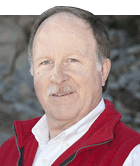 The author has served large Western dairy readers for the past 37 years and manages Hoard's WEST, a publication written specifically for Western herds. He is a graduate of Cal Poly-San Luis Obispo, majored in journalism and is known as a Western dairying specialist.