The groundwork for a healthy life is built during childhood. Unfortunately, financial limitations, a lack of knowledge or other social barriers may prevent some parents from providing their children with a wholesome, nutritious diet. However, researchers from Oregon State University have found that even children with well-educated parents in communities with access to healthful foods are falling short in the nutrients they need.
The study was conducted in Corvallis, Ore., a city with a population of 52,396. Corvallis has one of the highest education levels in the nation; 30.2 percent of the city's population has a bachelor's degree (compared to the U.S. average of 17.5 percent) and 26.4 have completed a graduate degree (U.S. average is 9.8 percent).
The median household income in Corvallis was $47,339 in 2010. The proportion of children from low-income households at each of the four elementary schools studied, as defined by the Oregon Department of Education, was 11, 17, 19 and 48 percent. Grocery stores that carried a wide array of fruits and vegetables were located within 2 miles of each school.
Students, 5 to 11 years old, and their parents were asked to fill out an extensive questionnaire on foods they consumed, and parents were taught how to collect a finger prick blood test to measure vitamin D levels.
The cross-sectional study, published in the August 2014 Journal of Extension, found a prevalence of low vitamin D status and inadequate nutrient intake in these elementary school-aged children. In particular, about 69 percent of the children had vitamin D blood concentrations considered insufficient
Older children, 9 to 11 years old, tended to have lower vitamin D concentrations. The older children also consumed fewer dairy products, with a quarter not meeting the recommendations for daily dairy consumption. Older children also fell short in calcium (45 percent were below recommended guidelines) and phosphorus (12 percent were below recommended guidelines).
Other areas of the children's diets also left room for improvement. A majority of the children fell below recommendations for whole grain and fiber intake, and nearly all consumed less potassium then they should. Only one child met the intake guidelines for vitamin E, and 22 percent consumed less vitamin K than needed.
Conversely, children are supposed to get less than 10 percent of their calories from saturated fat; 81 percent exceeded that guideline. More than a quarter consumed higher levels of total fat then recommended, and 10 percent consumed more cholesterol. Nearly all children exceeded the limits for sodium intake.
Looking specifically at the low levels of vitamin D, dairy was the only food group that was significantly associated with higher serum vitamin D concentrations. This further emphasizes dairy's place in a healthy diet and highlights the need and opportunity for continued dairy promotion to children and parents in communities of all kinds.
---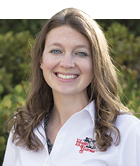 The author is an associate editor and covers animal health, dairy housing and equipment, and nutrient management. She grew up on a dairy farm near Plymouth, Wis., and previously served as a University of Wisconsin agricultural extension agent. She received a master's degree from North Carolina State University and a bachelor's from University of Wisconsin-Madison.