Strong production by most major dairy exporting nations during the second half of 2014 collided with weakening economies in much of the world to swamp global markets, cut demand, and trigger the rapid decline in milk price that U.S. dairies are seeing now.
It's a situation that Rabobank expects to continue in the first half of 2015 but then turn around. Its Dairy Quarterly report released two days ago forecast lower production and falling market inventories during the second half of the year that should encourage prices to rise.
For U.S. producers, however, the bank thinks the process will play out a bit later. Just as the U.S. was last to see prices fall, it thinks it will be last to see them recover, with significant traction not occurring until perhaps the fourth quarter.
In other words, the milk price decline that was inevitable to follow 2014's historic high should be relatively shallow and short.
The report predicts U.S. producers will react to falling prices and margins – and to what it expects will be continued high beef prices – by culling animals and trimming production growth to just under 1 percent in the second half of the year.
More significantly for the long term, it also thinks solid recovery will finally take hold for the U.S. economy in 2015, with one result being increased domestic demand for dairy products.
Rabobank believes dairy product purchases by China, the world's largest buyer, will continue to be relatively low in 2015, but start to rise during the second half. It also thinks Russia, the world's second largest buyer, is unlikely to lift its ban on dairy product imports from the U.S. and European Union, as is scheduled to end August 1.
"The market will gradually begin to tighten [in the second half], but it may take a weak Southern Hemisphere production peak until prices enter a meaningful recovery phase," concluded the report.
---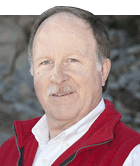 The author has served large Western dairy readers for the past 37 years and manages Hoard's WEST, a publication written specifically for Western herds. He is a graduate of Cal Poly-San Luis Obispo, majored in journalism and is known as a Western dairying specialist.