Once upon a time – way back in 2000 – the cost of feeding a dairy herd was slightly over $5 per hundredweight on a total revenue basis.
Those were the good old days, weren't they?
Things have changed dramatically since. While prices do zig and zag each year, the overall trend is decidedly up, according to client income and production cost summaries from Genske, Mulder & Co., the nation's largest dairy accounting firm.
(There are several important disclaimers to consider before reading any further: No two dairies are alike. The firm's summaries represent only several hundred farms. Most are located in the West, and their average herd size is approximately 10 times the U.S. average. Even so, the firm's data is likely the largest collection of dairy income and expenses that exists.)
Total feed costs (hay, silage, grain and farming) were already moving up fast before the housing market collapse and global recession arrived in 2008 to 2009, as seen in the summary averages below (data not available from all years):
2000 – $5.27 per cwt.
2006 – $6.21 per cwt.
2009 – $8.27 per cwt.
2010 – $7.38 per cwt.
2012 – $11.25 per cwt.
2013 – $11.69 per cwt.
2014 – $10.97 per cwt.
Keep in mind that 2009 was a financial disaster for dairies, as Class III prices averaged a paltry $11.36 for the year. Milk gained $3 in 2010 and made for an okay year, but margins were squeezed again badly in 2012 to 2013 even though Class III was over $17 both years.
Feed prices eased in 2014 and Class III set a record high of $22.34, giving producers a huge income-over-feed margin and a much-needed opportunity to put a dent in debt they took on during the recession.
The combination also pushed feed costs below 50 percent of total income – a ratio that had long been a "comfort zone" for the dairy industry – for what we believe was the first time since 1999.
---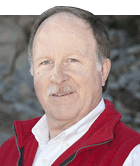 The author has served large Western dairy readers for the past 38 years and manages Hoard's WEST, a publication written specifically for Western herds. He is a graduate of Cal Poly-San Luis Obispo, majored in journalism and is known as a Western dairying specialist.