The cost of making milk never seems to go down, a hard reality that data from the nation's largest dairy accounting firm drives home clearly.
And from 2006 to 2014 that cost changed a LOT, as seen in the accompanying table.
Annual income and cost summaries generated by Genske, Mulder & Company almost entirely represent very large dairies (average client milking herd size in 2014 was 2,055 cows) that are located in the western half of the U.S., but we doubt any larger such database exists.
Comparing items in the simple average cost summaries for 2006 and 2014 is sometimes startling.
It is no surprise that between those two years the cost of feed rose dramatically (up 76.7 percent). Nor should it be that sustained and often record high beef prices have slashed the cost of raising replacements (down 37.4 percent). But what about other expense items?
Dairy producers enjoyed the highest milk prices in history in 2014, so it is understandable that some individual production costs saw sharp increases. Repairs and maintenance that could finally be afforded is one example. A return to use of higher quality A.I. sires and/or greater use of sexed semen is another possibility.
A strong increase in depreciation indicates that facility upgrades and/or major equipment purchases also took place. The sharp increase in fuel and oil cost suggests that farmland was purchased in order to become more self-sufficient in forage production.
Excluding hay and other feed, labor continues to be the most expensive cost item on dairies. But what the per-hundredweight figures in the table do not show is its dollar magnitude: in 2014 the average dairy represented in the summary spent $927,000 on labor and employee benefits.
Added all together, the average cost of making milk in 2014 was nearly one-third higher than in 2006 – a relentless upward trend that compels producers to be mindful of every day.
---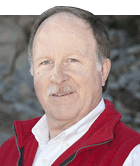 The author has served large Western dairy readers for the past 38 years and manages Hoard's WEST, a publication written specifically for Western herds. He is a graduate of Cal Poly-San Luis Obispo, majored in journalism and is known as a Western dairying specialist.