Spring is in the air, but with it can come some not so pleasant weather. While we are happy to see winter go, it's time to start thinking about how to prepare for those spring storms that are on the way.
Growing up in Kansas, I became accustomed to the severe thunderstorms and tornados that always seemed to make an appearance in mid-April and May. We can't stop a storm, but there are steps we can take to plan for bad weather, especially on the farm.
Generators can make all the difference when it comes to preparing for severe weather on a dairy, so it is important to make sure that they are in working condition before unfavorable conditions strike. While we may hope that the power is out for only a few minutes or even hours, a severe storm can wipe out power for days. Test generators throughout the year to make sure that they work when you need them to.
Tractors, farm trucks, and other farm machinery are usually the most used and most expensive equipment on the farm. When high winds, hail, and the threat of tornadoes present themselves, it is important to make sure that equipment is protected. Park equipment under shelter to minimize the damage that may occur.
While it may seem obvious, working flashlights were always the hardest things to find on my family's farm. Make sure that there are no burnt out bulbs and that batteries are charged before Mother Nature causes trouble. The ability to see can keep you and your animals out of trouble in harsh weather.
As farmers, we tend to focus on the health of our animals before our own safety, but it is crucial that we seek shelter if weather conditions are severe enough. Cattle, equipment, and barns can all be recovered, but the value of human life is irreplaceable. Use caution and your best judgment when harmful weather persists.
---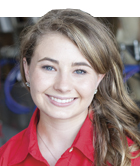 Taylor Leach grew up on her family's dairy farm in Linwood, Kansas. Leach graduated with an associate's degree from Kansas City Kansas Community College and now attends Oklahoma State University, majoring in animal science and agriculture communications. On campus, she is a member of the dairy club and also works on the university's dairy farm. Leach will be serving as the 2016 Hoard's Dairyman summer editorial intern.