Losing a favorite cow at any age can be heartbreaking, but it seems to sting even more when you're young. Not only do you lose an animal, but you also lose a listener, a playmate, and a friend.
Maizy was a Jersey calf that my family purchased two years ago to expand our small show herd. Sophie, my youngest sister, helped purchase the calf and immediately claimed Maizy as her own. She spent long hours feeding, bathing, and training Maizy for shows, and the two had a special bond that only they shared.
Unfortunately, Maizy passed away unexpectedly this week, and Sophie, understandably, was heartbroken. As I tried to comfort Sophie over the phone, it occurred to me, "How do you go about comforting a young child who is experiencing losing an animal for the first time?"
Here are a few of the things that came to mind.
It's not fair. It's not anybody's fault, but it's not fair. That can be hard for someone so young to understand. Even as we grow older, it can still be a hard thing to accept. Be there to help explain that these things happen, even when there is no explanation as to why.


You're not the only one. Every dairy farmer has experienced losing a special animal at one point in his or her life. Try to relate with them. I talked to Sophie about losing one of my first show cows, Patticake, at a young age. It was an experience that we unfortunately shared, but something that we are both able to relate to.


Acceptance. Accept the things we cannot change, change the things we can, and have the wisdom to know the difference. No matter what age, this is something that we all continue to learn. Things happen for unknown reasons, but there comes a time when we must accept what has happened and move forward. Happier times will slowly, but surely come.
While the day of Maizy's passing was full of tears of sadness and frustration, there was some happiness that brought a smile to Sophie's face. Crackers, Sophie's favorite Holstein cow, gave birth to a fancy heifer calf that same day. As one life left, another was brought into the world, allowing a new friendship to be born.
Although the loss of an animal is one of the hardest life lessons to learn on the farm, it is something that we have all experienced. Be there to help comfort those who are learning this lesson for the first time.
---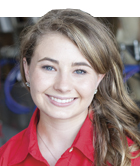 Taylor Leach grew up on her family's dairy farm in Linwood, Kansas. Leach graduated with an associate's degree from Kansas City Kansas Community College and now attends Oklahoma State University, majoring in animal science and agriculture communications. On campus, she is a member of the dairy club and also works on the university's dairy farm. Leach is serving as the 2016 Hoard's Dairyman summer editorial intern.