The excitement that a newborn calf brings can be one of the best feelings in the world. Unfortunately, the disappointment you feel when you discover her dam's colostrum quality is subpar can take your excitement down a notch.
The gold standard colostrum that you were hoping to receive is not available. Luckily, you have extra in stock, and the calf will soon be off to a healthy start. But what would happen if your stockpile of colostrum was running low? Here are some tips to make sure that you always have the best colostrum on hand at all times.
When a cow calves, test the colostrum that she gives with a colostrometer or a refractometer to measure its quality. If a calf receives colostrum that is lacking in nutrient value, it will not get the calf off to an adequate start.


Once the colostrum has been tested, be sure to save what is left over for future use. At our farm, we freeze extra colostrum in two plastic baggies with the date, quality, and number of the dam written at the top. Using this method, we can quickly thaw a bag of frozen colostrum for any calf that may need it.


If you freeze your extra colostrum, keep your freezer clean! Occasionally, some colostrum will spill, so it is important to keep things neat and tidy. Colostrum can be sticky stuff!


If your stock pile is low, be sure to have powdered colostrum on hand in a pinch. A calf's first meal is the most important.
Though most of us have enough extra colostrum to provide for our calves, we can sometimes experience a "drought." By performing some of these steps, your colostrum supply will not disappoint you whenever a newborn calf arrives.
---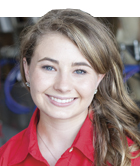 Taylor Leach grew up on her family's dairy farm in Linwood, Kansas. Leach graduated with an associate's degree from Kansas City Kansas Community College and now attends Oklahoma State University, majoring in animal science and agriculture communications. On campus, she is a member of the dairy club and also works on the university's dairy farm. Leach was the 2016 Hoard's Dairyman summer editorial intern.