I recall many cold mornings of feeding calves while growing up. On my family's 150-cow farm, I would shiver along, wearing at least four layers of clothes, from hutch to hutch wondering how the calves survived being in the weather all day.
Perhaps it's a good reminder this time of year that they don't survive those conditions all that well. Or at the very least, they struggle to designate resources for growth while trying to stay warm.
Whether it's an extra blanket or an extra meal, calves deserve and require more attention as we head into the winter season.
That attention begins with the ration, as altering the calf's diet can boost energy reserves. A calf care resource from the Wisconsin Veterinary Diagnostic Lab explains that the best feeding option bolsters fat, protein, and fat-soluble vitamins in order to optimize the nutritional profile for the calf. A milk replacer with 22 percent protein and 20 percent fat is the current recommendation. Especially in cases of illnesses, Wisconsin's Melissa Behr explains that a well-rounded diet can make the difference between a fatality and a survivor.
Both Behr and Iowa State's Ryan Breuer agree that one of the best options for improving calves' cold weather tolerance is upping feeding frequency from twice to three times per day. Breuer shares that a third feeding, or even a fourth when the temperatures are below 0°F, can help the calf regulate temperature throughout the day. Also, make warm water available to the calves within 30 minutes of feeding milk.
Additionally, it is important to manage other environmental considerations that affect the calves. Fresh, clean straw deep enough to cover calves legs allow the calf to nest. The environment should also be draft-free, and a calf blanket or jacket can improve calves' temperature regulation.
If calves remain in negative energy balance, the results are deadly. Because they are born with relatively low fat stores, Behr explains that a young calf in negative energy balance will only live three to five days.
Now is the time to check your winter calf care regiment. Ensure milk replacers have adequate fat and protein and that a plan is in place to provide adequate bedding and cover.
Whether we like it or not, winter here we come.
---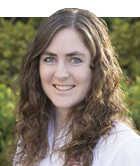 The author is an associate editor. She covers feeding and nutrition, youth activities and heads up the World Dairy Expo Supplement. Maggie was raised on a 150-cow dairy near Valley Center, Kansas, and graduated from Kansas State University with degrees in agricultural communications and animal sciences.
---
THE UPCOMING WEBINAR
November 14, 2016
"Inflammation around calving:
What does it mean and how should we approach it?"
by Barry Bradford, Kansas State.
Brought to you by Virtus Nutrition(www.virtusnutrition.com)
Research shows postcalving inflammation is common in dairy cattle, but cows with more dramatic inflammatory signs have more health issues. Bradford will tackle questions about what drives this response and what, if anything, should be done to minimize it.
Register here for all webinars.