I walked into the building and the smell hit me hard. So hard in fact, that my eyes began to water. I was used to all the smells that accompanied working at a dairy, but the smell of concentrated manure throughout this particular facility could clear up the sinuses of those with even the severest of colds. But to those who worked on the farm, all they could smell was the sweet scent of the money they were saving in bedding material.
After completing an eventful few days at the North American Intercollegiate Dairy Challenge, a fun learning opportunity that I recommend to all college students, my teammates and I decided to tour the University of Wisconsin-Madison Dairy Research Center. We were excited to compare our university's farming methods to theirs. Little did we know we were also in for an aromatic treat.
We had all toured large dairies before and did not expect to see anything out of the ordinary on this trip. After glancing over the parlor system and stopping to look at the freestall barn, our tour guide asked us, "Would you guys like to see the calves, or would you rather look at our sand separator?" We all looked at each other for a few seconds before saying, "Sand separator!"
The smell, as I noted earlier, was not for the faint of heart. The view, on the other hand, was an eye-opening one. Being from the southern half of the United States, none of my teammates or myself had ever seen a sand separation system. We all had numerous questions to ask as we stood spinning in circles trying to look at every part of the mechanism.
First, the manure would come in through a "lazy river" canal, which allowed the sand to sink to the bottom. Next, a large auger would carry the dirty sand to a washing system, pictured above, which allowed remaining manure to be rinsed away. Then, a conveyer belt would shake and sift the sand to help equalize particle size before dropping it into a large pile.
Though we looked like starry-eyed tourists, we learned a great deal from our "crappy tour." The farm has not seen a rise in its somatic cell count since installing the separator, and it has been able to keep its cows comfortable while reducing the amount of purchased sand on a monthly basis. While the Ferguson Family Dairy Center at Oklahoma State University may not be putting in a brand new sand separation system anytime soon, its student employees all agree that we should not rule out installing one!
---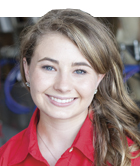 Taylor Leach grew up on her family's dairy farm in Linwood, Kansas. Leach graduated with an associate's degree from Kansas City Kansas Community College and now attends Oklahoma State University, majoring in animal science and agriculture communications. On campus, she is a member of the dairy club and also works on the university's dairy farm. Leach was the 2016 Hoard's Dairyman summer editorial intern.