One of my earliest memories is from our county fair. I was leaving the fairgrounds on the final day with my family and feeling sad. My mom asked me what was wrong, and I said, "It is the last time I will be at the fair when I am five." At a young age, I had been bitten by the fair "bug" and knew that it would be another whole year before it was fair time again.
I have always spent my Labor Day weekend at the Sheboygan County Fair. Even when I graduated from 4-H and my dairy cattle and swine showing days were over, I had younger siblings who were still exhibiting. Only when my youngest brother finished his 4-H career a few years ago, did fair time really have a different feel. Still, the Sheboygan County Fair, and other fairs I have had the pleasure to work with, continue to hold a special place in my heart. Fair week was always stressful and exhausting. Utterly exhausting, especially once we were older and had to complete farm chores at home and at the fair. Yet, as soon as we finished our work at home, we'd always rush back to the fairgrounds. I am not alone in my love for the county fair. My immediate family and many of our extended relatives spend countless hours there each year. Some are exhibitors; others are dedicated attendees. For my family, the fair was our vacation. Relaxing it was not, but it was something we looked forward to each year. It symbolized the culmination of summer. It was a place to see family and friends, to eat fun food, and to socialize. I know there are other farm families that can relate.
Our animals were not typically at the top of the class. They were not always the best trained, or the cleanest. But, they were ours. They gave us a reason to work as a team with each other and our 4-H club and spend our days at the fair. Showing, judging, and the other dairy activities I did as a youth helped guide me down the path I am still following today. I always enjoyed the cows and working on our farm, but these activities are what led me to meet the people that I did and confirmed that I wanted to major in dairy science and pursue a career in agriculture. The county fair is more than cattle shows, carnival rides
, and deep fried foods. It's also about family traditions, showcasing agriculture, and youth development. This year, I will take my daughter to her first fair. I hope that someday she, too, will get excited when this time of the year rolls around and reap the benefits that a county fair can offer.
---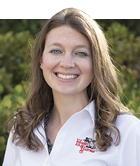 The author is an associate editor and covers animal health, dairy housing and equipment, and nutrient management. She grew up on a dairy farm near Plymouth, Wis., and previously served as a University of Wisconsin agricultural extension agent. She received a master's degree from North Carolina State University and a bachelor's from University of Wisconsin-Madison.