Personally, I love the word "sustainability" because it can be a great description of what dairy farming is, but I do think it is a word that is hard to understand if not put into context.
Sustainability has three parts to it: social, environment, and economic. Below is a diagram that shows how the three portions work together to make up sustainability.
You can't have sustainability without all three parts, and you really can't make one work without the other.
I am going to focus on the social tier. The social aspect pertains to identifying and managing how your farm impacts people, both positively and negatively. People who may be involved in social sustainability include your employees, family, neighbors, and the surrounding community.
Employees — An unhappy employee is just as bad as not having them at all. Simple things like keeping employee break spaces clean and comfortable, or offering weekly/monthly lunches to be catered in can show employees you appreciate them and create a more comfortable work environment. More complex gestures could include yearly flu shots for employees and their families or on-farm housing.
Family — Have a plan for the next generation to take over the operation, and communicate it to your children and other family members. Do not be afraid to give the next generation of family members more responsibility. I have seen many falling outs with families because one member felt like they were not given the same opportunity as another to contribute to the farm. A farm cannot be sustainable if there is no one to pass it on to.
Neighbors — Sometimes we may not get along the best, but they can be a deciding factor on whether your farm has the chance to expand or complete a construction project. My first tip is to invite them over to your farm and show them what you do and why you care so much about dairy cattle. Second, plant some trees! This is something my family has done for over 15 years now. Trees aid in odor control and add esthetics. Also, if you have the resources, do some dust control of your roads during high-traffic times of the year, like silage chopping.
Surrounding community — Be an active member of your community. Join a local board and support local events, such as school sports or town organizations. Let people see you as more than just a farmer. Also, give back — donate milk, cheese, yogurt, and ice cream, and take the opportunity to teach about the importance of dairy in the diet. My family works with the local school district to have different grades and clubs visit our dairy.
Social sustainability is just one piece of the sustainability pie. Don't overlook it, and seize opportunities to better your dairy and community.
---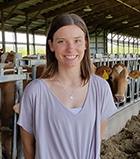 Christy Achen is the 2018 Hoard's Dairyman summer editorial intern. She grew up on a dairy farm in southwest Kansas. Achen is currently a senior at Utah State University studying agricultural communications and journalism.