These three food stands at World Dairy Expo have more options than just corndogs and cheese curds. They offer unique foods that are fresh, filling, and worth giving a try if you are looking to get some tasty grub while still staying on the grounds.
Papa Rueben's, moved to a new location this year on the northeast side of the Coliseum. This spot is convenient if you're watching the show, but it takes a little longer to get your food because everything here is made fresh to order.
Most popular: Walleye fingers
Staff's pick: Seasoned fries
Something sweet: Silly bar, hard ice cream dipped in Belgium chocolate
Big G's, located at the food court in the southeast parking lot, serves a mix of Southern-prepared meats like chicken, turkey legs, lamb, and alligator.
Most popular: Bourbon chicken with beans and rice
Staff's pick: Gyros – lamb, ribeye steak, or chicken
Something sweet: Mango sweet tea, and strawberry and cherry lemonades.
Toast, located at the food court in the southeast parking lot, makes grilled cheeses with an Italian and Mediterranean twist. You may not have heard of them because this is only their second year at Expo. On the menu are paninis, gyros, pita sandwiches, and smoothies.
Most popular: Chicken panini
Staff's pick: Chicken shawarma pita tahini
Something sweet: Chocolate lover's Panini – Nutella, bananas, strawberries, powdered sugar
---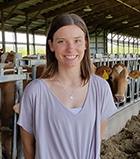 Christy Achen was the 2018 Hoard's Dairyman summer editorial intern. She grew up on a dairy farm in southwest Kansas. Achen is currently a senior at Utah State University studying agricultural communications and journalism.