Most of our Saturday mornings might include feeding calves, chores, or if we're younger, maybe watching some cartoons to kick-off the weekend. However, that was not the case on June 8th when a few thousand individuals from far and wide started their day the dairy way. Not having experienced a dairy breakfast before, I was amazed at the sight of seeing so many people come together as one for the industry we hold close to our hearts.
Knigge Farms located in Omro, Wis., hosted the annual Winnebago County Dairy Breakfast on Saturday, June 8th. This event was held to provide the opportunity for consumers to connect firsthand with producers and industry professionals.
In July 2000, Knigge Farms became the first dairy farm to install robotic milkers, and the cows that milked themselves were a popular attraction for attendees of the dairy breakfast. In addition to the automated aspect of the farm, sites to see throughout the morning included an exhibit in the calf barn explaining different feedstuffs along with a display to showcase just how much water a cow can consume in one day. The youngsters had a chance to show off their skills on the pedal tractors and play putt-putt golf. Older milking machines were displayed along with other educational exhibits to stimulate conversation.
Dairy royalty including the 2019 Wisconsin Holstein Princess, Lauren Siemers, and the 2019 Wisconsin Guernsey Princess, Breanna Fritsch, offered spectators the chance to test their taste buds with cow's milk and plant-based beverages. Another trendy component of the day included hay rides led by volunteers who drove their antique tractors around the estate. All of these engaging attractions were sounded by the vibrant band playing near the barn.
The farm served over 3,000 individuals throughout the morning. The menu included an egg omelet, sausage, pancakes, cheese, fruit, milk, coffee, and the famous Leon's Frozen Custard that operates in nearby Oshkosh, Wis. Dozens of volunteers assisted to prepare and serve food, set up the venue, converse with consumers at different stations on the farm, and provide entertainment for all. It's events like this that display the true concept of community and fellowship.
This is June Dairy Month, encourage your friends and family to partake in the wholesome, delicious dairy goodness. Whether that's at a dairy breakfast or from the comfort of your own home, take time to enjoy nature's most nearly perfect food!

---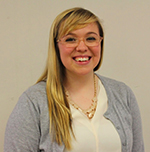 Sarah Thomas grew up in Pittsboro, N.C., showing and raising dairy heifers. Thomas attends Virginia Tech, majoring in dairy science with minors in agricultural economics, communication, and Spanish. On campus, she's involved with Dairy Club, Sigma Alpha, and has been a member of the Virginia Tech dairy judging team. Thomas is the current National Junior Holstein Advisory Committee Chairperson and is the 2019 Hoard's Dairyman summer editorial intern.