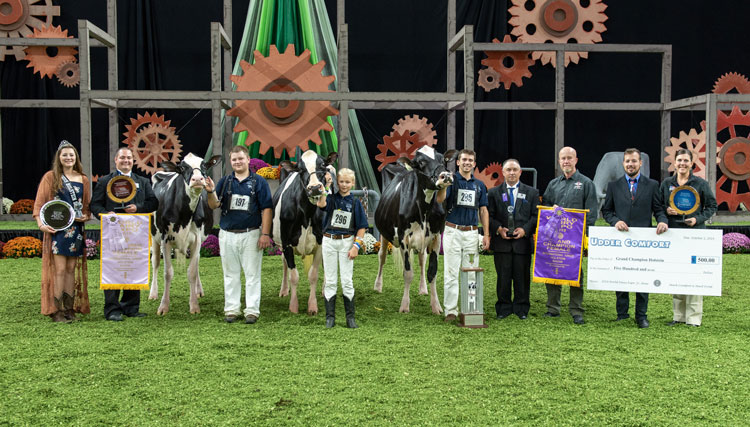 Taking home Grand and Senior Champion of the International Junior Holstein Show was Musthaven Goldwyn Jaelyn-P. The Excellent 94-point cow was exhibited by Miles, Macrae, and Madison Price and Christian Cunningham of Lomira, Wis.
According to judge Eddie Bue of Kaukauna, Wis., "For (associate judge) Brandon (Ferry) and I, this five-year-old cow just wowed us when she entered the ring. She has so much style, so much ring presence, and just a beautiful mammary system. She walks a little bit freer on her rear feet and legs and is a little stronger on her pasterns than the aged cow."
Right behind Jaelyn as Reserve Grand Champion and the winning Aged Cow was Lida-Acres Atwood Annie, the Reserve Senior Champion, exhibited by Olivia and Madilyn Johnson of Pelican Rapids, Minn.
Heart & Soul Dempsey Raelynn claimed Intermediate Champion of the show. She was exhibited by Matthew Boop of Millmont, Pa. Boop also captured champion bred-and-owned cow of the show. Reserve Intermediate Champion went to Jericho-Dairy Baracuda-ET exhibited by Lance McClure of Hobart, N.Y.
The Junior Champion was exhibited by Jacob Bingham of Clear Spring, Md. His heifer, Harvue Doorman Fiji-ET, was the winner of the Spring Yearling Heifer class. Reserve Junior Champion went to the winning Winter Heifer Calf, Vandoskes Denver Cami-ET. She was exhibited by Brianne, Brooklyn, and Reid Vandoske of Cleveland, Wis. Cami also captured the title of champion bred-and-owned heifer.
---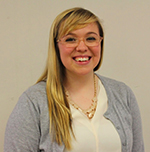 Sarah Thomas grew up in Pittsboro, N.C., showing and raising dairy heifers. Thomas attends Virginia Tech, majoring in dairy science with minors in agricultural economics, communication, and Spanish. On campus, she's involved with Dairy Club, Sigma Alpha, and has been a member of the Virginia Tech dairy judging team. Thomas was the 2019 Hoard's Dairyman summer editorial intern.