I grew up absolutely living for contests such as Dairy Bowl, dairy judging, management contests, showing, and so much more. Over time, this developed into a full-fledged passion for the dairy industry. In my case, I knew I wanted to be a part of something more.
When I first started college, I was seeking any and every way to get involved. After just a few short weeks in my time at Virginia Tech, I heard of a new opportunity called Dairy Challenge from multiple professors.
In 2002, the North American Intercollegiate Dairy Challenge was established to incorporate all aspects of operating a dairy business and to push students to grow out of their comfort zones. The goal of Dairy Challenge is to have students evaluate a farm and make recommendations for it using sound, financial decision making, all while considering what would work for that producer.
After learning of what Dairy Challenge actually entailed, I was sure this was something I eventually wanted to be involved with, so I decided to apply for the social media corps my first year. For me, this was the perfect way to gain exposure to the contest. By hopping on the social media team for the Southern Regional Dairy Challenge my first year, I was able to gain perspective on the intricate decision making the contest requires. This also enabled me to gain insight on professional social networking by helping to take photos and post to the Dairy Challenge account on multiple platforms.
Since my time of catching the bug for Dairy Challenge as a social media corps team member, I have attended two more Southern Regional Dairy Challenges as well as participated in National Dairy Challenge Academy.
Dairy Challenge has tested me beyond ways I initially imagined. Earlier, I mentioned my love for Dairy Bowl, judging, and more. Dairy Challenge combines this knowledge and took it a step further to push my boundaries in comprehending and applying what I knew to a dairy operation. For example, anyone might be able to tell if something such as reproduction could utilize some improvement on a farm, but Dairy Challenge drives you to explain the why and how behind it using finances, industry technology, and other management decisions.
Lastly, Dairy Challenge is about opportunity and growing your network. It intertwines industry-leading companies and their interaction with students to provide internship and even job opportunities. If you are a student yearning for the chance to be pushed beyond your boundaries in the dairy world, Dairy Challenge is for you!
---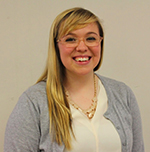 Sarah Thomas grew up in Pittsboro, N.C., showing and raising dairy heifers. Thomas attends Virginia Tech, majoring in dairy science with minors in agricultural economics, communication, and Spanish. On campus, she's involved with Dairy Club, Sigma Alpha, and has been a member of the Virginia Tech dairy judging team. Thomas was the 2019 Hoard's Dairyman summer editorial intern.