It might be a new year, but some things never change. I don't expect a new reaction this year after I reveal what I'm studying in school and what I'm passionate about. Time and time again, whether at home or simply making conversation with a stranger, after I tell someone I'm majoring in dairy science, I usually receive a, "So you study cows?" oriented comment or maybe even a slight chuckle.
This isn't about me, though. This runs so much deeper than a confused look we might get from someone. Quite honestly, I felt like a "weird kid" in school growing up because no one really understood what I was doing with cows or why I was passionate about them.
Set the dazed, puzzled, and doubtful looks to the side so that you might share with others. If anything, we should feel lucky that we were able to discover something that we care so deeply about. Lucky? Yep. Call me crazy, but I consider myself blessed to have been lured into this industry.
Specifically, for those in college or about to enter college, I encourage you to mention the scholarships in our industry that many might not know of. If only I could capture the surprised reactions that I've gotten over the past few years when I reveal how many scholarships are available in agriculture and the dairy industry. The shock in people's faces when they realize that there is *gasp* so much support for our next generation. Who would've ever imagined that for a bunch of ag kids?
If I had a dollar for every time I heard, "There's no future in dairy," I would never even need scholarships to pay for school! I'm not ignorant; I know I might not rake in the big bucks with a career in the dairy industry, but I'll do my best to be happy with what I have. College student or not, shouldn't we all feel that way? That we were chosen by some greater power to have an influence on such a vital part of consumers' needs in some capacity?
To make a long story short, others might not get it, and that's okay. They might not get our "why." After all, why would they? Who would willingly deprive themselves of sleep, for example, just to do something that the average Joe might not find that fascinating?
Here it is: student, producer, dairy enthusiast, or anything else, you have your own "why." Share it, live it, and embrace it.
---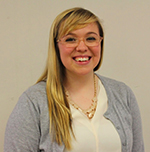 Sarah Thomas grew up in Pittsboro, N.C., showing and raising dairy heifers. Thomas attends Virginia Tech, majoring in dairy science with minors in agricultural economics, communication, and Spanish. On campus, she's involved with Dairy Club, Sigma Alpha, and has been a member of the Virginia Tech dairy judging team. Thomas was the 2019 Hoard's Dairyman summer editorial intern.