We know there are so many ways to enjoy the milk we produce — in a glass, on an ice cream cone, as a cup of yogurt, as sour cream on a burrito, or as cheese on just about anything. This June Dairy Month, let's not leave any of our dairy products out of the celebration.
Cottage cheese is a little different from the cheeses most people are already familiar with. Acid or cultures are added to milk to allow the curds and whey to separate, but then the curds are washed, salted, and mixed with cream. While per capita consumption is only about 2 pounds per year, U.S. use of milk for cottage cheese has experienced a bit of a rebound over the past five years and climbed up to 695 million pounds in 2018. In all of the years since 1975 when data became available, that usage peaked in 1978 at 1.02 billion pounds.
Why has cottage cheese experienced such a bumpy (pun intended) road to acceptance? All signs point to its breakfast alternative, yogurt, which has skyrocketed in production in the last 50 years. Dairy in a different dimension is never a bad thing! But there is certainly room for both of these snacks in a bone-building diet. Some brands of cottage cheese even use active cultures in their recipes, so you get the same gut health benefits as with yogurt.
Cottage cheese is rich in protein and in calcium, just like all dairy products. A half-cup serving of 1% reduced fat cottage cheese packs 12 grams of protein for just 72 calories and one gram of fat. Most of this protein is casein, which is digested slower than whey and helps keep you full longer. Some research suggests a healthy dose of cottage cheese can be just as fulfilling as a plate of eggs, which is why it's often cited as a diet food to help with weight loss. The muscle-building ability of casein has even spurned cottage cheese support in some athletic circles.
One of the most valuable characteristics of cottage cheese is that it has a fairly mild flavor that's enough on its own but can also be supplemented in a variety of ways. Many processors offer convenient cups of cottage cheese with mix-ins such as fruits, nuts, honey, or even more savory tastes like chive and dill. It makes an easy snack and also works in a range of recipes.
Soft dairy products don't always get the recognition they deserve, and cottage cheese is just one example of how milk's nutrients can be appreciated in any form.
---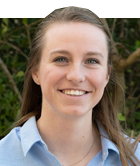 Katelyn Allen joined the Hoard's Dairyman team as the Publications Editor in August 2019. She manages the development, editing, and marketing of the variety of resources offered through the Hoard's Dairyman Bookstore. Katelyn is a 2019 graduate of Virginia Tech, where she majored in dairy science and minored in communication. Katelyn grew up on her family's registered Holstein dairy, Glen-Toctin Farm, in Jefferson, Md.