In the span of just over a week, my two oldest cows both passed away. Both developed conditions that sprang up and were treated meticulously — only to no avail. Dairy farmers know that this is an unavoidable but still painful part of life.
What made these losses stand out to me, though, was the contrast between these cows. One was a production leader, while the other was more recognized for being a show animal; one did her work without fuss, but the other was always the center of attention.
There's no lack of examples of division and contrast in the media right now, so the difference painted in this situation of my cows was hard not to notice.
And yet, both cows had such impacts on our herd that their illnesses warranted phone calls halfway across the country to let me know. Here are the abbreviated stories of two different, but both valued, cows.
At first, Delaney was special because her dam was special. Dara was the picture of dairyness, and after some success at local and state shows, she was flushed. Delaney quickly became the frontrunner of the resulting four heifer calves.
We soon learned that Delaney was not like her standoffish, independent dam. She would accept any attention given to her, which was generous as I showed her during my last three years in 4-H. Delaney was a fine heifer, but true to her family, she really blossomed into her own as a cow. She milked very well, thanks to her unending appetite and massive frame, and she was raised to EX-92 earlier this year. She also seemed have that sense that her place in the herd was with the special group in the box stalls, the first ones to go through the parlor each morning and afternoon. My brother joked that she was the queen of the farm. She probably liked that title.
Salsa, on the other hand, was the kind of low-maintenance cow that many farmers would love to have fill their barn. At 12.5 years old, she was nearing the end of her eighth lactation and due to calve in October, hopefully with her fourth heifer calf. She had also just reached over 271,000 lifetime pounds of milk, a farm record that will likely stand for years.
In my memory, she is always the oldest cow in the herd, or close to it. I couldn't tell you what she was like as a heifer or young cow, or why I named an animal Salsa, to be honest. She made her way up to VG-85. We kept an eye on her as she aged, but she was not the kind to demand extra attention. She was the cow that simply seemed to always be in the barn, and we knew she was paying her way. Quietly, she set her legacy of production and daughters.
Dairy farmers likely have their preference of whether they want to milk cows like Delaney or cows like Salsa. Do what works for you! We should remember, though, that life is not always an either/or choice — there can be traits of one group found in the other, and often the groups will coexist. There's room for both in our world. Maybe the division doesn't need to be so wide, in cows or in people.
---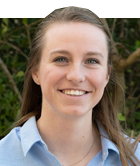 Katelyn Allen joined the Hoard's Dairyman team as the Publications Editor in August 2019. She manages the development, editing, and marketing of the variety of resources offered through the Hoard's Dairyman Bookstore. Katelyn is a 2019 graduate of Virginia Tech, where she majored in dairy science and minored in communication. Katelyn grew up on her family's registered Holstein dairy, Glen-Toctin Farm, in Jefferson, Md.