Most of us have heard the popular statement that cows have best friends. While I'm not one to anthropomorphize, this is a fact that I have seen countless amounts of anecdotal evidence for.
We will frequently see heifers purchased at the same sale at the feedbunk together for the rest of their lives, show cows that were tied together come back from the show with an inseparable bond, and gleeful reunions between separated hutch buddies. Cows have social orders, and they like their routines.
It's very common for people to apply human emotion to animals, but this time, I'm going to flip things around and apply this cattle concept to people.
When a cow is separated from its herd, it lets you know just how unhappy it is about this. Whether the groups have been moved or a cow found itself apart from the group on the wrong side of the fence, it is made very clear that it does not want to be separated from the herd.
Right now, I think we are all feeling just a little bit separated from our herds.
Merriam-Webster defines a herd as both "a large group of animals" and "a group of people usually having a common bond."
Your herd is made up of your people. Not exclusively your family or your friends, but simply those around you who represent the values you hold close to your heart. The people who will accompany you on a late-night Target run, just for the sake of the companionship. The ones who stop in for a short visit and stay for hours. Even the people whom you don't see very often, but when you do manage to connect, it's like no time has passed at all.
My herd is made up of aunts, uncles, cousins, distant relatives, family friends, siblings, friends from home, friends from college, and everyone in between. They traverse the country and sometimes even the world.
Some of my herd graduated and moved far away. Others reside across the street, but because of the conditions on campus, we can't visit each other. Roaming between apartments the way we used to is a thing of the past, and I miss the spontaneous get-togethers that used to accompany the beginning of the semester. Family potlucks that normally happen every week have dwindled down to almost none.
I miss my herd, and I know that you might be feeling the same way (especially if you're returning to or have already returned to school). I thought that coming back to campus would make the pandemic conditions more tolerable, but it has largely reminded me of the type of interactions we can't safely have right now.
I am grateful to attend a school where we can have in-person classes, but I feel like I'm a cow, mooing across the barn at a herdmate while we're kept in groups, all alone.
But that's the great thing about having a herd. No matter the distance, and no matter the global pandemic, they are there for you and you are there for them. Whether that means yelling across the room or setting up virtual happy hour, your herd is there for you.
---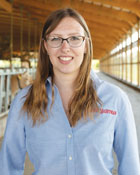 Abbie Cox grew up in Cato, N.Y. on a first-generation dairy farm and currently attends Cornell University as a member of the class of 2021, majoring in animal science with a minor in education and a focus in dairy. On campus, she is involved with the Cornell University Dairy Science Club, Sigma Alpha, Collegiate Farm Bureau, and is a Peer Adviser with CALS Student Services. Cox has interned with the MILC group, the Animal Agriculture Alliance, and was the 2020
Hoard's Dairyman
summer editorial in-tern.