Looking for a bit of good news lately? Here is something those of us in agriculture can be proud of: in a recent Gallup poll that asked American adults if they had a positive or negative perception of 25 different industries, farming and agriculture topped the list by receiving the most positive votes.
With an 11 percentage point climb from last year (the second highest jump behind only healthcare), 69% of those surveyed had a favorable outlook on agriculture. Farming has been among the top-rated industries before, but this marks the first time it claimed the number one spot.
Through this spring and summer, we witnessed how consumers are interacting differently with their food. COVID-19 exposed many realities of the food chain system that were a wake-up call not only for producers and processors, but also for families. The public is realizing greater appreciation for the work that farmers do.
Just like farmers experienced the importance of grocery stores and restaurants to get their products to the people that want them, so did those consumers. The grocery industry was rated second most positive, with 63% of Americans viewing it favorably. Restaurants followed in third at 61%. All of these aspects of the food system became even more vital during the pandemic.
Agriculture also recorded the second-lowest negative perception rating of all 25 business areas. Even though 11% of consumers having a poor opinion of agriculture is still higher than we would like, sometimes it can feel like that number is much greater than that. Remember that those doubters are in the minority.
Agriculture continues to make strides in animal care, environmental stewardship, and food safety that illustrate a commitment to an improved future. Sharing those achievements, particularly with the 19% of Americans that responded 'neutral' on agriculture, will keep building a positive outlook for our industry and the communities it serves — which happens to be all of them.
Farming has always been essential, and in a very bittersweet way, the pandemic has shone a light on that quality for consumers. Your good work is not going unnoticed.
---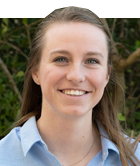 Katelyn Allen joined the Hoard's Dairyman team as the Publications Editor in August 2019 and is now an associate editor. Katelyn is a 2019 graduate of Virginia Tech, where she majored in dairy science and minored in communication. Katelyn grew up on her family's registered Holstein dairy, Glen-Toctin Farm, in Jefferson, Md.