The dairy industry enjoys a rich history full of value and innovation. When those two attributes are joined together, it brings accessible nutrition to people who need it.
Many people have contributed to this success in reaching people with the calcium, vitamin D, and seven other essential nutrients that milk and dairy products provide. From Louis Pasteur's development of pasteurization and Harvey Thatcher's invention of the milk bottle to the dairy scientists and processing leaders of today, dairy has seen continued relevance because of people taking the initiative to solve a problem.
I added a new name to my mental list of dairy leaders when I learned about a man named Nathan Straus. Straus was not in the dairy business by trade; in fact, he was a co-owner in Macy's Department Store and a successful New York City philanthropist around the turn of the 20th century. Still, he was a staunch advocate of the value of pasteurized milk and one of its biggest supporters in the U.S.
Straus believed that this relatively new process of pasteurization was the answer to his city's infant mortality problem. In the early 1890s, he began opening milk depots to provide low-cost pasteurized milk to needy children, and indeed, more children survived. Across the country, he established nearly 300 milk stations in 36 cities. The national infant death rate in 1891 was 12.5%, but by 1925 it had dropped to 1.6%. Today, it is 0.57%. Certainly, other health advancements also contributed to this accomplishment, but providing pasteurized milk was a key factor. One article estimates that Straus's efforts saved the lives of over 445,000 children.
Straus was a real leader in public health and providing nutrition to those who needed it most. He was instrumental in pasteurization becoming a widespread and available practice in New York City, and thanks to his innovative efforts, more healthy dairy products became available to people around the country.
Dairy continues to reach people in new ways today. We've seen the advent of grab-and-go containers, lactose-free milk, and a resurgence of Greek yogurt. Most recently, farmers, cooperatives, and industry organizations worked hard to bridge the breaks in the dairy supply chain caused by the pandemic. New opportunities and programs arose so that families could still put milk, cheese, yogurt, butter, and more on their tables.
This is just the latest example of how the people of our industry meet the changing world around them. While there is always something new on the horizon, dairy should be proud of how far it has come to help feed the world.
---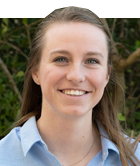 Katelyn Allen joined the Hoard's Dairyman team as the Publications Editor in August 2019 and is now an associate editor. Katelyn is a 2019 graduate of Virginia Tech, where she majored in dairy science and minored in communication. Katelyn grew up on her family's registered Holstein dairy, Glen-Toctin Farm, in Jefferson, Md.