Human beings are complex, and that means our interactions are, too. A seemingly simple conversation with an employee about what's going on in the barn, for example, could be successful or unsuccessful based on any number of things that have nothing to do with what's happening in the barn. How many times have we snapped at, withdrawn from, or ignored a conversation because of one of the millions of other thoughts in the back of our minds that always seem more important?
Since we can't remove these intricacies from our personalities in order to run our businesses, leaders of people must recognize that in every interaction, every coaching moment, and every review with employees and team members, there are personal and practical needs that must be met. At this year's Professional Dairy Producers of Wisconsin Business Conference, leadership coach Michael Hoffman stressed that meeting both of those kinds of needs will help our people be confident and competent in the work they do.
Farm leaders or managers can often find themselves leading a conversation that requires a concrete plan to solve an issue. To meet those practical needs, Hoffman shared what he called "the best meeting agenda":

Start the conversation. Lead with purpose. Does everyone know what they're here to address and why they are part of the conversation? If not, those individuals will likely "check out" quickly.
Assess the wants and needs. Get all the relevant facts, figures, issues, and concerns from the people that are gathered and have a stake in the outcome of the problem's solution. With more pieces of the puzzle on the table, there's less chance the solution will have to be revised moving forward.
Lead the discussion. Create a plan together to determine the best options to move forward. Discuss how you can stay on track with whatever your goals may be.
Eliminate any fog. When everyone leaves the conversation, they should be on the same page. Who is doing what, and when? "Always ask, 'What else?'" Hoffman advised.
Secure the conversation. Help the discussion finish on a high note and encourage your people to leave feeling confident in what you've come up with and how you're moving forward.
Underneath those practical requirements are the personal needs of each member of the conversation at the meeting. Hoffman identified that fulfilling an individual's personal needs to help them feel confident in their job encompasses listening, involvement, and bolstering self-esteem.
Listening is a difficult skill that includes keeping an ear open for the attitudes and emotions of the people we're working with. This can help us understand if they truly feel confident and competent in their job, or if something is missing. Then, getting people involved helps fill their need to feel valuable to the company and their role.
Another key is addressing self-esteem issues the listener may have, particularly if they might not see the value in the issue you're hoping to address and have "checked out" of the conversation. Without their commitment to the project, no solution can be implemented, Hoffman noted.
Recognizing an employee's self-esteem level means acknowledging that there's something to be addressed but that their work is part of the solution. It shouldn't support that is overly "flowery"; in fact, it must come across as sincere, Hoffman emphasized.
A farm's employees can be one of its most valuable and critical assets. Helping your team members become confident and competent in the essential jobs they perform every day can make a big difference in how your business performs.
---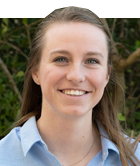 Katelyn Allen joined the Hoard's Dairyman team as the Publications Editor in August 2019 and is now an associate editor. Katelyn is a 2019 graduate of Virginia Tech, where she majored in dairy science and minored in communication. Katelyn grew up on her family's registered Holstein dairy, Glen-Toctin Farm, in Jefferson, Md.