We are creeping up on one year since our farm was threatened by wildfires. And now, another year of drought in the West has brought the perfect conditions for a severe fire season yet again.
While we hope having to keep a close eye on wildfires won't be our new normal, we are definitely more aware of what is going on in our environment. One aspect we are certainly appreciating is the fresh, clean air, even as drifts of smoke blow through from fires far away.
Our close call with the fires brought an awareness of the possibility of the effects smoke could have on our herd. After the immediate threat of the fires had passed, I started to look for resources on how we could help our herd heal from the severely heavy smoke. I was left empty-handed with not many answers.

So, I was recently excited when I learned that research is happening at the University of Idaho to look at the effects of smoke exposure on dairy cattle health. It will definitely be interesting to see what the research yields and if there are ways we can help our herds, especially with respiratory health, through periods of unhealthy air quality.
Our personal experience didn't exactly yield any concrete evidence. We saw no dip in production or immediate effects on the milking herd. We did see a few more cases of pneumonia in the calves later that fall. These cases seemed to set in harder and faster than usual, even though we did administer precautionary doses of trace mineral during the worst of the smoke just to try to give their immune systems a boost.
I'm glad it didn't yield more devastating effects, as we were definitely concerned about that possibility. When you're wearing N95 masks to complete your work and still having to take breaks from the smoke with an air purifier, you know it can't be good for your cows' lungs. If continued poor air quality is going to be our new normal, hopefully this research can be helpful.

---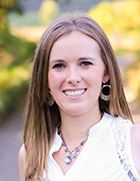 The author is a third-generation dairy farmer from Oregon where she farms in partnership with her husband and parents. As a mother of young sons who round out the family-run operation as micro managers, Darleen blogs about the three generations of her family working together at Guernsey Dairy Mama. Abiqua Acres Mann's Guernsey Dairy is currently home to 90 registered Guernseys and transitioned to a robotic milking system in 2017.