We're now five days out from Thanksgiving, and that means that even the holiday purists who cringe every time they hear premature Christmas music can no longer deny that the season is here. The shopping day countdown is officially on, and the perfect gifts must be found, bought, and wrapped in just a few short weeks.
Kudos to the folks who have the forethought to plan out their Christmas gifts earlier in the year. That is not me, and based on the Black Friday and December rushes that happen every year, I'm guessing it's not most of you, either. Americans love to buy stuff — household items, furniture, electronics, clothes, anything you could imagine — year-round, but the holidays add another layer to that spending. Unfortunately, this year that also results in added stress to the supply chain issues that have made it difficult to even get necessities like gas, computer chips, and paper easily.

Ports on the West Coast have taken much of the blame for the problem as they struggle to keep enough staff and space available to work through record imports and exports. Farm Bureau Chief Economist Roger Cryan wrote in a Market Intel that U.S. exports of agricultural products alone were projected to reach a record $173.5 billion in the fiscal year ending in September. Additionally, in the six months ending with September, the U.S. imported $1.24 trillion worth of manufactured goods, 24% higher than last year.
On top of the port congestion, Cryan noted that the American Trucking Association estimates a shortage of 80,000 drivers.
Pent up demand due to the pandemic encouraging more people to shop, especially online, coupled with the holidays means more products need to be moved. Although it's unlikely we will buy fewer items to ease this issue, we can buy different things that put less strain on the supply chain. In other words, shop local!

Chances are there are plenty of farmers and small businesses in your area that would appreciate your support. Cryan considers it like this: If you order a gadget made in Asia as a Christmas gift, it will surely not arrive until after the holiday and will contribute to backups along the way. "But if you pick up a cheese box (and a quart of maple syrup and a fruit basket) from the farm stand or farmer's market down the road," he wrote, "you'll have something special and you'll take a load off the supply chain."
A gift card to a local restaurant or unique item from a shop in your downtown has the same effect. By cutting out the middleman, you're contributing to the local economy, creating memories, and reducing extra supply chain traffic.
Exports and imports are a key piece of our economy, but the system is still working to bounce back from the pandemic. Consider appreciating the gifts you can find close to home this year to give them time to adjust, have everything ready in time, and even support a farmer or two.

---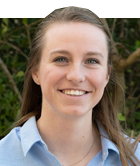 Katelyn Allen joined the Hoard's Dairyman team as the Publications Editor in August 2019 and is now an associate editor. Katelyn is a 2019 graduate of Virginia Tech, where she majored in dairy science and minored in communication. Katelyn grew up on her family's registered Holstein dairy, Glen-Toctin Farm, in Jefferson, Md.