For the last few years, I've been honored to be part of an event in our county called Ag Encounter. During the first week in October, our county extension brings all of the fifth graders in our county to the local fairgrounds to learn about agriculture. They have stations about bees, beef, pigs, dairy, poultry, produce, grains, maple syrup, stewards of the land, and meet the farmer (mine!). This year, they hosted almost 600 students.
For my part, I try to show them how diverse ag is by listing off some of the careers they could have in ag. Then I tell them some of the big ways ag affects their life that they might not even know about. At the loudest point in the 10-minute presentation, I ask them to shout out what they want to be when they grow up. Then I tell them that they get to be those things thanks to farmers. They don't have to spend their summer weeding gardens and tending animals, worrying about what their family will eat all winter long. They can practice being doctors or astronauts or ballerinas or famous radio DJs (that last one may be mine) because we do what we do.

The last thing I say is probably the most important, and it really hits home. I tell them how lucky we are to have the safest, cheapest, and most varied food supply in the world. Because we do, and we don't say it enough.
Some people think spending time talking to kids about ag is pointless. They think they won't care, won't listen, or that it's a waste of time. Well, I think those people are stupid. Every year, at the end of each presentation, they ask me questions. Good questions. Some kids come up to me afterward and sincerely thank me for what I do. They go home and tell their parents what they learned, then their parents send me Facebook and Instagram messages telling me that their son or daughter loved what they learned.

The bottom line is that if you have an audience, use it. It's true that none of those kids are making the food buying decisions in their households, but that doesn't mean they don't have a say. Some day they will be making food buying decisions, and maybe they'll remember the crazy lady who told them that there are kids in this world who will never eat applesauce. And they'll remember how lucky they are to have the safest, cheapest, and most varied supply in the world. And that's no small thing.
---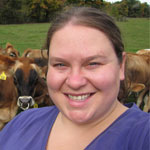 The author dairies in partnership with her parents and brother at Spruce Row Farm in Pennsylvania. Jessica is a graduate of Pennsylvania State University, and since 2015, she has been active in promoting dairy in her local community. You can find her and her 250 Jersey cows on Facebook at Spruce Row Dairy or on Instagram at @seejessfarm.