Dairy foods get honored frequently during the year. Those of us in the industry love to celebrate June Dairy Month, National Ice Cream Month in the dog days of July, and even National Grilled Cheese Month in April. We should also remember to celebrate the holiday season of November and December as we use dairy products in a variety of special recipes this time of year.
The major player during this time is butter, perhaps the most versatile dairy product. One of the reasons butterfat prices have set records this year is because of efforts from retailers to make sure they have enough butter stocked for the holiday baking surge amid the shortages that have occurred. The fourth quarter of the year is regularly when grocers sell the most of that rich ingredient.
In addition to loading butter into flavorful mashed potatoes, casseroles, and other savory holiday favorites, shoppers need it for baking all of the delicious desserts that fill our homes this time of year (this is also my personal favorite way to use it). When it's prime cookie-baking time, butter is what adds flavor as well as richness and tenderness. This article from the Institute of Culinary Education gives an interesting look into why we use butter in baked goods and other pastries — a little bit of delicious food science!

Cookies, in particular, are abundant around Christmas. My family is one of the many that has a few regular cookie recipes we enjoy each December, which all use plenty of butter. A new one we tried this year is a tasty dairy treat I'm sure we will make again — butter and cream cheese combine with cake mix for a light and airy bite better than a sugar cookie! Here's one recipe for you to try making your own Gooey Butter Cookies.
Cream cheese is another dairy ingredient that makes holiday desserts special and heartwarming. Whether you are making a cheesecake, bars, creamy frosting, or anything in between, cream cheese adds a smoothness and richness that's hard to duplicate. Taste of Home even developed a whole list of cream cheese-centric dessert recipes.
And while they aren't baked goods, there are many special holiday drinks that highlight dairy. Eggnog is the obvious one, and Christmas also serves as the kick-off to hot chocolate season. Of course, Santa enjoys plain milk with his cookies. And if you haven't seen it online yet, the newest trend of this year's holiday season is "pilk." Described by some as tasting like a float or milkshake, it is a simple drink of Pepsi combined with milk. Some recipes up the dairy by also adding heavy cream or creamer. At the very least, it could be worth a try to find your new crazy holiday tradition.

You may have guessed by now that baking is one of my favorite hobbies, but who doesn't love a warm cookie or rich pie? This is the best time of year to enjoy both favorite family recipes and new experiments. Dairy products play a valuable role in many holiday celebrations, and for that, we can be full of thanks (and delicious desserts).
---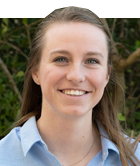 Katelyn Allen joined the Hoard's Dairyman team as the Publications Editor in August 2019 and is now an associate editor. Katelyn is a 2019 graduate of Virginia Tech, where she majored in dairy science and minored in communication. Katelyn grew up on her family's registered Holstein dairy, Glen-Toctin Farm, in Jefferson, Md.