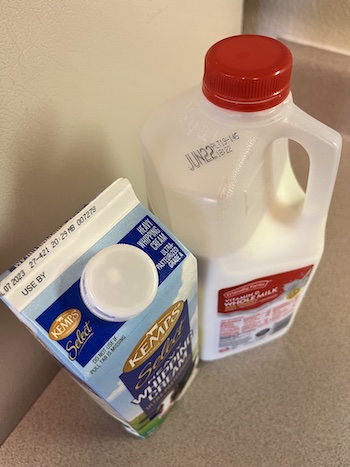 The plant codes on this heavy whipping cream (27-421) and milk (19-145) tell us where they were processed and packaged.
One of the coolest aspects of being part of a dairy farm is walking into a store — whether it's a retailer or an on-farm shop — and seeing your milk bottled or made into other dairy products for customers to take home. Knowing the story behind how the product got there adds so much interest and makes it more than just a simple gallon jug. Those on the farm recognize it as the result of the hard work of many hands along the way.
Consumers want in on that story, too, which is why farmers markets have become so popular, more farms are successful selling their products right from their doors, and so many people are interested in hearing from farmers on product packaging and promotional materials.
And while it is easy to connect with a dairy product's journey when you buy it directly from a farmer, there are also ways to learn a little more about the items you buy at a grocery store. In addition to reading the label, which may provide information about the company that processed the milk, shoppers may not know they can find exactly which plant handled their milk, yogurt, cream, and more through a simple website: www.whereismymilkfrom.com
By entering the plant code found on the product's label on the website, shoppers can learn where their milk was received, processed, and packaged. Though milk from many farms is commingled at a plant, this gives a good idea of the area where the milk was produced, too. Here are some tips the site offers for finding the plant code on your dairy product:
It is typically near the top of the container or even on the label.
It will begin with two numbers between 01 and 56.
After the first two digits, there will be one to five characters, which may include numbers, letters, or a dash. Codes never contain colons.
Sometimes the code will be preceded by "PLT" for plant.
If you don't see a code that fits these criteria, the product is not made with real dairy!
You may be surprised to learn where your dairy product travelled from to get to you. Grocery store shelves are stocked with items from local farms, while other items may come from specialized plants or locations further away to meet a specific need. No matter where the milk was sourced from, though, it is handled in chilled, sanitized environments that ensure the best possible product quality. So on this final day of June Dairy Month, grab your favorite dairy product from the fridge or your local store and see where it was processed and packaged. The people working hard at that plant and on the farms that supply it are making it possible for you to enjoy a delicious, convenient burst of nutrition.
---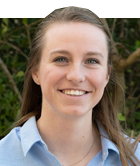 Katelyn Allen
Katelyn Allen joined the Hoard's Dairyman team as the Publications Editor in August 2019 and is now an associate editor. Katelyn is a 2019 graduate of Virginia Tech, where she majored in dairy science and minored in communication. Katelyn grew up on her family's registered Holstein dairy, Glen-Toctin Farm, in Jefferson, Md.