How do you eat an elephant?
One bite at a time.
My nearly 1 year old son just began walking. To be fair, he is just taking a few steps and falling on his bottom, but I'm counting it! Watching him learn has been a process of taking one tentative step at a time when I know he wants to take off running.
It reminds me of the way I felt the first day I returned to my family's farm. I wanted to fix everything, do everything, and build everything the first day. Soon, I was overwhelmed by just the simple day-to-day tasks. It raised the question, "How do you dream when you're stuck managing the daily problems of the dairy?"
The longer I've been at the farm, the more I've learned to take the advice from the top of the article. I try to focus on doing a single task each day that moves me toward my goals on the farm. Some days that looks like doing research on transition planning. Other days, it looks like picking up a stray feed bag blowing across the yard.
In the barn, too
The philosophy also applies to work with the cows. A bad pregnancy rate doesn't correct itself over night. Rather, it occurs as the entire farm team focuses on executing protocols more precisely and being more attentive to breedings.
One of the areas on our operation that received attention shortly after I returned to the farm was related to animal health. Our herd had a disproportionately high level of displaced abomasa. In order to identify the contributing factors, we eliminated one causative item at a time. First, we worked on the rations; then, we ensured stocking densities were correct and pen moves occurred on time. Eventually, we returned to the dry cow ration.
We found the issue was linked to that ration and the amount of starch in it. We corrected the issue, and while we haven't eliminated incidence of displaced abomasa, we certainly have reduced our cases.
When it comes to finding hope on the farm, I find that we can't become paralyzed by the amount of work to be done or the mountains we have to climb. I know a positive attitude is no small task this time of year with feed being put up and fall calving seasons on the way. I think that makes intentional moments even more critical — intentional moments that advance you and your farm toward your goals.

---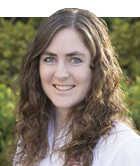 Maggie Gilles
The author is a dairy farmer in Kansas and a former associate editor at Hoard's Dairyman. Raised on a 150-cow dairy near Valley Center, Kansas, Maggie graduated from Kansas State University with degrees in agricultural communications and animal sciences.