May Day was a good day for California dairy producers – and an unusually crowded one for members of the State Assembly's Ag Committee.
At a May 1 public meeting to gather input and hear public comments on Assembly Bill 31, which would more closely align the value of whey in the state's Class 4b (cheese) pricing formula with Class III (cheese) whey values in Federal Milk Marketing Orders (FMMOs), the meeting room was jammed with an estimated 100 dairy farm supporters of the measure. Another 100 or so had to wait outside.
After brief formal presentations were given to the six-member panel from invited parties representing both sides of the issue, approximately 50 other people took turns at the microphone to voice their support. Afterward, committee members voted 6-0 in favor of the measure. Although it is a purely symbolic endorsement that has no legal power, it does keep the bill moving forward to be considered by the full Assembly.
AB 31 is supported by a wide coalition of both dairy and nondairy groups, including the state's three largest dairy cooperatives, two producer advocacy groups, and two statewide feed associations. Its aim is to put more money into milk producers' pockets by increasing the value of whey that is used in computing their milk prices.
As seen in the accompanying table, since 2008 California's cheese price whey value has never been higher than 75 cents per hundredweight. For the last two years, however, the value of whey in FMMOs has never been below $1.50.
"Since 2009 alone, the accumulated difference between the two is $1 billion that California dairy producers have not seen in their milk checks," said Western United Dairymen CEO Michael Marsh. "Instead, it is $1 billion of extra profit that has gone to the state's cheesemakers."
---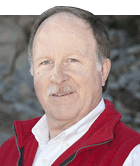 The author has served large Western dairy readers for the past 36 years and manages Hoard's WEST, a publication written specifically for Western herds. He is a graduate of Cal Poly-San Luis Obispo, majored in journalism and is known as a Western dairying specialist.