If dairies in California need a reminder about why they operate under the most strict air quality emissions regulations in the world, they have to look no further than the latest national air quality rankings from the American Lung Association (ALA).
Those rankings are also why California milk producers should plan on having to operate under perhaps even more strict and expensive regulations forever.
ALA's 14th annual
State of the Air
report released in April listed the 25 worst cities in the country for air pollution. Rankings were made in three categories: ozone (smog), fine particulate matter (PM 2.5, or soot) and year-round particle pollution. They were based upon air pollution data compiled by the Environmental Protection Agency (EPA) and the incidence of heart and lung issues among residents.
As bad as the rankings were for California as a whole, they were a disaster for the agriculture-dominated San Joaquin Valley. According to ALA, all of the seven worst air pollution cities in the U.S. in 2012 for year-round particle pollution are in California. Unfortunately for milk producers, six of them are in the state's six biggest dairy counties:
1. Bakersfield
2. Merced
3. Fresno-Madera
4. Los Angeles-Long Beach-Riverside
5. Hanford-Corcoran
6. Modesto
7. Visalia-Porterville
The seven areas listed above are located in dairy counties whose statewide ranking is, in order, 5-2-6-10-3-4-1, respectively. Excluding the Los Angeles area, the other six counties form a contiguous block that contains more than 1.5 million milking animals and an equal number of heifers. That makes it the most highly concentrated milk-producing area in the world. It is also home to 4 million people, so both they and the cows share what is consistently the most unhealthy air in the country.
---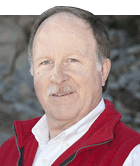 The author has served large Western dairy readers for the past 36 years and manages Hoard's WEST, a publication written specifically for Western herds. He is a graduate of Cal Poly-San Luis Obispo, majored in journalism and is known as a Western dairying specialist.