This blog post is a point-blank effort to draw attention to the half-page article that appears on
page 426
in the June 2013 issue of
Hoard's Dairyman
.
We think it is a must-read for every milk producer in the U.S. who hopes to continue being a milk producer. That's because it makes some huge claims about some equally huge obstacles that they may not know they are up against.
Those obstacles may, in fact, be too big to overcome.
It's a disturbing and occasionally infuriating account of a personal conversation that Delta, Utah, dairyman John Nye recently had at his farm with a visiting dairyman from New Zealand. That visitor is a member of Fonterra, the New Zealand-based global dairy export giant that the U.S. is trying to compete with, and his comments were extremely candid. In New Zealand, Fonterra markets milk for 95-plus percent of the nation's dairy producers.
We have absolutely no reason to doubt that the conversation took place, or that John's account of it is accurate.
It centered around how the U.S. dairy industry's divisiveness and inability to work together, plus our politicians' willingness to give away our competitive advantages, make it easy for Fonterra to manipulate our markets and make billions of dollars off of us.
In doing so, the New Zealand dairyman agreed that Fonterra has effectively made the U.S. the world's milk balancing plant.
"What do balancing plants consistently do?" asks Nye in his article. "They lose money."
We've known John for several years. We like him and respect him. He's smart, well-informed, and passionate about dairying. He's also been frustrated for years about the politics and industry infighting that seem to always get in the way of anything being done easily or quickly to actually help dairy producers.
Get the June 2013 issue. Read the article. Get mad. Then
tell us
what you think.
---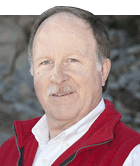 The author has served large Western dairy readers for the past 36 years and manages Hoard's WEST, a publication written specifically for Western herds. He is a graduate of Cal Poly-San Luis Obispo, majored in journalism and is known as a Western dairying specialist.