Producer milk prices will go up 12.5 cents per hundredweight for six months in California starting July 1, the result of the most recent producer petition for emergency price relief to help dairies cover their cost of production.
That dairies didn't get what their tremendously united front requested and showed justification for at a May 21 public hearing - a $1.20 jump in the Class 4b (cheese) price that would have translated into a blend price hike of 54 cents – is no surprise whatsoever. That they got anything at all is a mild one. That it pours more fuel on the growing fire to get a Federal Milk Marketing Order (FMMO) in California goes without saying.
But what was absolutely stunning were statements made by California Department of Food and Agriculture Secretary Karen Ross (pictured here) in a letter to the dairy industry that accompanied the price hike announcement. Frankly, California dairy producers have never seen anything like them before.
The letter is very effectively a confession that the state's 44-year-old milk pricing system no longer works, is unable to meet the needs of its producers, and needs to be replaced. Key phrases in the letter are:
"Our system of regulated milk pricing is an antiquated one that impairs the ability of the dairy industry…"
"The current system is unsustainable . . . "
"We must work together to create a new system to allow producers to improve margins . . . "
These are thunderclap statements that might as well be the program's letter of retirement. They also seem to bless the vigorous efforts that are already underway by the state's three biggest cooperatives to pursue creation of an FMMO.
---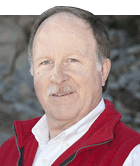 The author has served large Western dairy readers for the past 36 years and manages Hoard's WEST, a publication written specifically for Western herds. He is a graduate of Cal Poly-San Luis Obispo, majored in journalism and is known as a Western dairying specialist.