Just as cellphones are slowly phasing out landlines, some current mechanics and methods of operation on dairy farms will be pushed aside as we make way for new technologies. This change will certainly not happen overnight, but as time goes by new technology has the potential to transform the way that dairy farms are managed.
Precision dairy farming is a term used to describe the technologies aimed at improving dairy management systems. Some fairly well known new dairy farm technologies are automatic milking systems (robots) and automatic calf feeders. In reality, the list of options is long and impressive: pedometers and accelerometers, rumination monitors, daily milk yield and component testing, daily body weight measurements and precision feeding, to name just a few.
As these technologies become more readily available, people are seeking more information. More than 500 people gathered at the Precision Dairy Conference and Expo last week in Rochester, Minn. This was the first-ever conference of its kind held in the United States. The first Precision Dairy Conference was held in Canada in 2010. The conference included presentations, producer panel discussions and farm tours.
Jeffrey Bewley from the University of Kentucky, kicked off the program as the first speaker. In his welcoming address, he explained that new technologies should improve well-being for both cows and people. For precision dairy technology to be of value to a farm, it needs to collect meaningful data, be cost effective (this is different than being low cost!) and be flexible and robust to survive in a farm setting.
New technologies do not replace a person with good "cow sense." Farms still need employees that know cows. However, humans only have so many hours in a day, a limited amount of time to observe animals per day, and only two eyes. New tools help farmers make more timely and informed decisions, which can lead to better individual cow care, productivity and profitability. As Bewley accurately explained, people with good cow sense are the ones that will benefit most from these new on-farm technologies.
Precision dairy farming is still in the very early stages throughout the industry as a whole. A survey distributed to all dairy farms in Kentucky five years ago asked dairy producers what factors prevented them from adapting precision dairy farming technologies. Top responses were unfamiliarity with the options available, undesirable cost to benefit ratio, unsure how to incorporate on their farm, not enough time to spend using the technology and perceived lack of economic value.
For these reasons and many more, the adaptation of precision dairy technologies will be a slow process. However, these technologies can provide tremendous opportunities for farms and will likely change the way farms are managed in the future.
---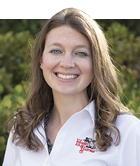 The author is an associate editor and covers animal health, dairy housing and equipment, and nutrient management. She grew up on a dairy farm near Plymouth, Wis., and previously served as a University of Wisconsin agricultural extension agent. She received a master's degree from North Carolina State University and a bachelor's from University of Wisconsin-Madison.