"On a roll" is a good way to describe how U.S. dairy exports have been doing so far this year.
"Thank goodness" is how dairy producers should feel about the supporting strength they have provided for milk prices.
According to data from the U.S. Dairy Export Council, foreign purchases of U.S. dairy products set a new all-time record in April at 15.7 percent of total milk production (solids equivalent basis). Then in May they set a new record of 16.9 percent. For the first five months of 2013, exports have accounted for 14.4 percent of all U.S. milk production.
To put these figures into perspective, Wisconsin accounts for just 13.6 percent of U.S. milk production (fluid volume basis).
Ongoing global economic recovery, coupled with continued demand growth in China and product shortages caused by lower milk output in four of the five largest dairy exporters (the European Union, New Zealand, Australia and Argentina) has made the world an oyster for the U.S. in terms of dairy exports. Among the top five, only the U.S. has maintained or increased production compared to 2012.
The biggest part of American dairy export opportunity continues to be dry ingredients - milk powder, whey products and lactose. So far in 2013, exports have accounted for more than half of all production of those products in the U.S.
Mexico continues to be the leading buyer of U.S. dairy products, followed closely by Southeast Asia. The Middle East and Canada rank third and fourth.
---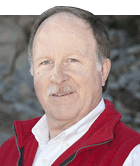 The author has served large Western dairy readers for the past 36 years and manages Hoard's WEST, a publication written specifically for Western herds. He is a graduate of Cal Poly-San Luis Obispo, majored in journalism and is known as a Western dairying specialist.