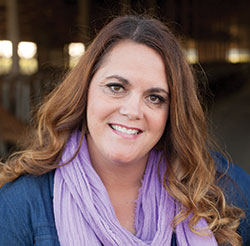 The new year is now two months under our belt. How many of you have kept up on your New Year's resolutions? The simple resolutions I vowed to work on, and I am thankfully still working on today, follow.
1. Stop comparing. Social media easily tricks us into thinking the grass is greener on the other side of the fence, from jobs to vacations to those perfect family portraits. Stop comparing. If it bothers you that much, and truthfully for me at times it has, I've simply removed the Facebook app from my phone.
Be reminded that filters can act as Jenny Craig and Botox. The lens can show you what the person behind it wants you to see. Plus, it is hardly fair to compare someone's best day to someone's worst. Especially in the life of a farmer. Our days can be tough and so much more challenging compared to our followers.
2. Get off social media and make real connections. Most of you differ greatly from the masses, where your occupation doesn't allow you to sit behind a screen all day long. But, for those of you who still find yourself under the social lens, make a conscious effort to step away.
Call your parents more than once a month. Someday you will want to make that call and won't be able to. Meet a friend for lunch. Take a meal to a neighbor and embrace them with a hug. I'm working on more time with friends and family and making calls to those close to my heart. These are real connections that allow for real conversations.
3. Limit the workday. This is especially difficult for farmers who work where they live. I know personally for me it is easy to work 12 hours throughout the course of a 24-hour day. One more story, one more email, one more invoice. Enough is enough; it can wait until morning. Plus, me sending an email at 9 p.m. creates the same headache for the person on the receiving end.
Just because we can work 24 hours a day, seven days a week doesn't mean we should. For farmers, this is difficult, especially this year, when we are forced to make cuts to save room for cash flow. Doing more with less requires you to work longer.
Many of you already work 12-hour days, and when spring arrives, you work much more. But, try hard to cap the day. I hate to break the news to you, but the never-ending to-do list will never get done.
4. Be more present. Read with the sunshine on your back. Stare into your kids' eyes. Listen to a child's heart-felt giggles. Hold hands with your spouse. Sit by a fireplace and feel blessed by its warmth. Let your kids chat your ears off. Someday, when they get older, you might only hear grunts and "I know, Mom!"
5. Better health. It's on the list of everyone, or nearly everyone, come January 1. Then 30 days later, most people resort back to old habits. I've been guilty too many years to count, but this year I'm digging deep and persevering.
Drink more water. Eat less sugar, consume more lean protein and vegetables. Go to bed earlier. Move more. Stretch. Meditate. Do deep breathing.
You might chuckle, but we all deserve to feel good. Our kids and grandkids need us to feel good. Vow to incorporate small changes for a healthier, better version of yourself. Your waist size will shrink, and your energy will grow.
I'll admit, so far 2018 has been less than what I vowed it would be. And none of it has to do with the above. One really bad day can trickle into other avenues of your life, making you reconsider big life decisions. Low milk price has affected a lot, including my mojo. I know many of you can relate. We are in for a tough year ahead.
Take note, none of the resolutions I vowed to make included to make more money. That's a good thing, right? My resolutions are still intact. However, the low milk price and poor future outlook plays havoc on our mindset. We are forced to become even better at managing our balance sheet.
Twice weekly I'm balancing the checkbook and predicting the future. By that I mean projecting bills to be paid and income to come in, hoping there is more of the later.
This is not how I wanted to start 2018. But, I'm reminded that while I've suffered a bumpy start to the year, some of my friends have had even more dramatic tolls. It's true, we need to be kind, as everyone is facing hurdles. Life is 10 percent what happens and 90 percent how we react to it. Pull on your boots, work hard, persevere, and find joy and happiness in the smallest of tasks.
When you think you can no longer endure the storm, think back to 2009. Be reminded of the storms you have already endured and realize that God made us to be farmers. The world needs us now more than ever.
And be reminded of the words Henry Ford spoke. "When everything seems to be going against you, remember that the airplane takes off against the wind, not with it."
Around the Kitchen Table is a regular column in Hoard's Dairyman. The author and her husband work in partnership with family on a 450-cow dairy in East Moline, Ill.