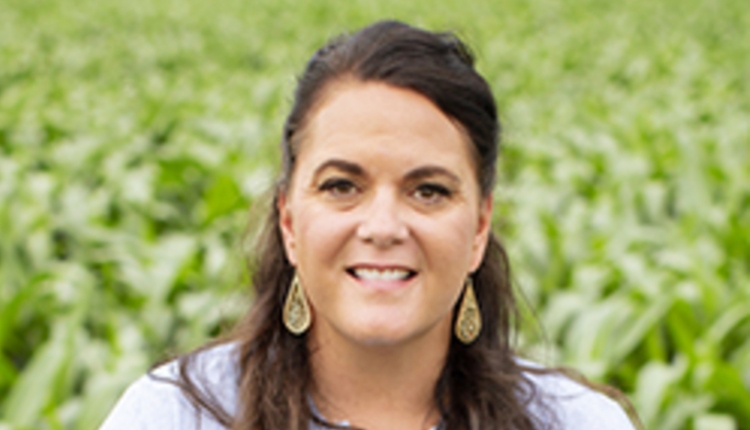 Back in the spring of 2015, my daughter, Cassie, picked out her fall show calf, Gillie. Her older brother, Tyler, had already selected his calf in the fall, one that went back to his beloved Blackstone Elvira cow.
The duo would switch placings with their fall calves as they went from fair to fair. Meanwhile, their relationship with their Jerseys deepened, especially for Cassie.
The next year, Cassie had her eye set on showing her dear Gillie, but her father questioned the possibility. Gillie would only be three weeks fresh and would have to compete as a 2-year-old because our state fair didn't have a senior yearling in milk class. Cassie didn't care. She wanted to show Gillie, and she was willing to go against the odds.
Cassie showed Gillie that summer in Springfield and placed well but took home no big ribbons. A fellow dairy producer, Trent, spotted the Jersey and proposed Cassie with a grand opportunity. Trent would take Gillie home and get the Jersey ready for Cassie to exhibit at the All American Jersey Show in Louisville, Ky.
Back at our farm, Gillie's home is the freestall barn with 480 other milk cows. We do not have any room for special cows. All our cows, regardless of their status as a 4-H animal or a 92-point cow, live in the barn and are fed a total mixed ration diet. Trent, however, would be able to extend a lot of tender loving care to Gillie and his other show cows.
When we arrived in Kentucky, Cassie was so excited to go see Gillie. We knew this would be a once-in-a-lifetime opportunity for our daughter. Even if we had a special place that would allow us to dote on Gillie, the odds were against us to take a cow down there and be gone from our farm that long in November. Generally, the All American takes place during ideal farming time, and our attention is demanded in the fields.
The fall of 2015 was one for the record books, though, and Scott was able to finish harvest by early November. That meant he could head to Louisville to watch his daughter show.
Cassie walked Gillie, looking the best this cow has ever looked, onto the colored shavings with a smile on her face and determination in her spine. We were very content with her ninth-place finish in a class of 25. Later, Cassie showed Gillie in showmanship and received second place.
Cassie left Louisville with tears and repeatedly thanked us for giving her this opportunity. "It was the best weekend of my life," she said.
Year after year, without question, Gillie would load up on the trailer and head to the fair. This year, with Gillie being fresh since December 31, it wasn't ideal for her to be shown. However, Cassie decided on her own that she was showing "her" cow.
At nearly 5 years of age, Gillie is past her prime. Cassie, on the other hand, is just gearing up. At our recent state fair, Gillie placed further down the line than Cassie liked. While our daughter has exhibited other cattle that placed worse, Gillie was her favorite, and this placing was very personal for our Jersey sweetheart.
Cassie fought many tears and whispered in Gillie's ear, "Don't worry, we still have showmanship." Gillie has always been Cassie's go-to for showmanship. The pair have this indescribable bond — a combination of stubborn and sweet; determined and gentle.
In the junior show showmanship class at our state fair, Cassie walked in with confidence. The judge asked her questions about her cow, and really, he could have pulled up a chair — Cassie knew every stat you would need to know. How many calves, days in milk, how much Gillie was producing, and so forth. She could tell the judge what pen Gillie is in and what stall the Jersey prefers.
But the judge only asked Cassie a couple of questions and moved on to the next showman. Even though she gave it her all, she placed in the middle of the pack. She walked out, forcing a smile and holding back tears.
Cassie was upset. In the private quarters of the show tent, she buried her head and cried big tears. What the judge didn't know was that when Cassie had a bad day or after our recent barn fire, she would go and sit in the stall with her beloved cow and all would be okay with the world.
What could a mother do to console her daughter who worked her heart out this summer? I gave her a hug and told her how proud I was. I also said that sometimes judges have a hard time picking showmanship winners.
I finally said, "Shake it off, Cassie, and take a nap. You'll feel better, I promise."
When she woke up from her nap, she was still ticked off, but she determined that next year would be her year. I was reminded of what Pat Riley once said, "You have no choices about how you lose, but you do have a choice about how you come back and prepare to win."
I have a feeling that 2020 will have a different outcome for Cassie Ann Bohnert.
Around the Kitchen Table is a regular column in Hoard's Dairyman. The author and her husband work in partnership with family on a 500-cow dairy in East Moline, Ill.