It's been said many times before, but we'll say it again. No matter the operation, a healthy start at birth for a calf will continuously prepare it to be an efficient, profitable cow. That's the idea taken to heart at Air-Osa Dairy located in Pixley, Calif. Air-Osa is home to the Airoso family; Joey marks the fourth generation, and his son, Joseph, marks the fifth.
Dairying has been in the family's bloodline for over 100 years, and they continue to push forward to surpass industry standards for all realms of the operation. The farm is home to approximately 1,500 acres and 3,000 Holsteins, Jerseys, and Red and Whites.
Jim Wilson, a herdsman at Air-Osa, explained the ins and outs of their calf care routines. The farm has reason to brag with a calf mortality rate of less than half of a percent. Cleanliness, pasteurization of milk, and colostrum testing are just a few of the key points that employees follow to ensure maximum calf health.
At any given time, there will be 450 to 500 calves receiving milk. Immediately after calves are born, they receive intranasal vaccines, colostrum, and their navels are dipped. The farm prides itself on using colostrum only from cows in their second lactation or greater. Each batch of colostrum is pasteurized and frozen in bags for future usage. After calves have been monitored for a few days in a cooled environment, they are housed in elevated hutches that are pressure-washed and sanitized between each calf. Additionally, water buckets are cleaned each day and refilled when needed.
These accomplishments could not be done by a single worker. Wilson proudly detailed the hard work done by the calf team each day. Employees are with the calves virtually around the clock, and at least one of those caretakers has been with the farm for 16 years. "These guys know what they're doing, they like doing it, and they do things well," said Wilson in reference to the hard workers.
Although the numbers speak for themselves, Wilson concluded, "We're pretty proud of how our calves are performing, but we know we can always improve. Losing a calf is one of the worst feelings for me, so doing what I can and working with my fellow co-workers is something I strive to do every day."
---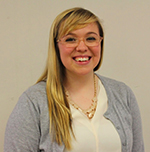 Sarah Thomas grew up in Pittsboro, N.C., showing and raising dairy heifers. Thomas attends Virginia Tech, majoring in dairy science with minors in agricultural economics, communication, and Spanish. On campus, she's involved with Dairy Club, Sigma Alpha, and has been a member of the Virginia Tech dairy judging team. Thomas was the 2019 Hoard's Dairyman summer editorial intern.