For the third consecutive year, Wisconsin came out on top at the National 4-H Dairy Cattle Judging Contest. The difference this year is that they won by a whopping 29 points. The team consisted of Marie Haase, Ben Styer, Abigail Powers, and Fritz Ullom and was coached by James Powers and Scott Nelson.
Not only did Wisconsin come out on top overall, they also claimed the titles for first-place team in placings only and oral reasons. Specifically, Marie Haase has reason to celebrate with her first-place individual wins in placings, oral reasons, and overall. Teammate Ben Styer placed fourth individually overall, fourth in reasons, and eighth in placings. Abigail Powers placed 19th overall, earning All-American honors, and was seventh in reasons.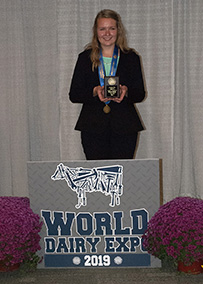 Twenty-five points separated Haase and Lane Bollenbacher, the second-place high individual, from Indiana. Haase also placed in the top 10 for three of the breeds including Brown Swiss, Holstein, and Jersey.
"I was completely awestruck at the results," stated Haase. "Honestly, we didn't place too well as a team toward the beginning of the contest with Ayrshires or Guernseys, but then we won the Jersey breed. That was the turning point."
She continued, "By no means did I expect to win high individual. It was a complete surprise. I judge because it's fun, and I enjoy improving my skills such as public speaking and critical thinking. The results of this contest have just added to my love of judging that much more," said Haase.
Ohio 4-H followed Wisconsin as second overall team. The team was comprised of Marissa Topp, Derek Burns, Heath Starkey, and Lindsay L'Amoreaux and was coached by Sherry Smith. New York placed third, Maryland claimed fourth, and Illinois was fifth.
Rounding out the team reasons behind Wisconsin included New York in second, Ohio in third, Kentucky in fourth, and Maryland in fifth.
Following Haase and Bollenbacher in third place individually was Heath Starkey from Ohio 4-H. Jillian Sutton from Maryland rounded out the top five individuals.
Seventy-five individuals from 19 teams judged 10 classes and gave five sets of reasons during the contest. Congratulations to all 4-H members who competed in the 2019 contest!
---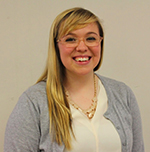 Sarah Thomas grew up in Pittsboro, N.C., showing and raising dairy heifers. Thomas attends Virginia Tech, majoring in dairy science with minors in agricultural economics, communication, and Spanish. On campus, she's involved with Dairy Club, Sigma Alpha, and has been a member of the Virginia Tech dairy judging team. Thomas was the 2019 Hoard's Dairyman summer editorial intern.