For the past week, our farm and family have found ourselves in the path of a wildfire. It's one of those natural disaster situations you hope and pray you never have to deal with.
Have you ever thought about what disaster your farm might be most likely to face? I know now how doing some planning in a non-emergency situation can at least take a tiny bit of the mental strain out of the unthinkable when it happens. But is there really any way to prepare for the unimaginable?
A historic perfect firestorm fell upon Oregon last Monday night (September 7) with an eastern wind event unheard of for this time of year. Combine that windstorm with a tinderbox fuel load and the worst-case scenario fire started in a tiny town 45 miles away from downed power lines. Meanwhile, that night, our local fire crews put out dozens of similar fires created by the wind, including one at a transformer at the bottom of our property. Luckily, they were able to stop all the local fires, but power was knocked out to basically the whole region. After getting our generator going for the farm, we finally caught a couple of hours of sleep.
We never imagined waking up last Tuesday morning to a black cloud of smoke billowing into our blue sky. That was the last time in a week we've seen the sky. Before noon, it became obvious we needed to start to prepare our farm for the worst-case scenario. We never thought we'd have so little time.
My dad has been a volunteer firefighter for almost 40 years and my husband for 15 years. With that experience, we took a look at our situation and made the call not to evacuate the cows. Our new robotic facility is a steel and concrete barn. The fuel load surrounding the barn is as low as it can be. With the time we had, we just had to pray it was the right decision.
To make a long story short, for two days it looked very possible that a wildfire would sweep through our farm. By the power of community, volunteers, national crews, pure determination, and improved weather conditions, we now "safely" have the wildfire sitting 4 miles from our farm. This next week is bringing a weather system that hopefully will help the crews, but it also brings the possibility of flare ups outside the fire lines.
We are exhausted, physically, mentally, and emotionally, but we are so very thankful to still be playing the waiting game. We are also so thankful for the power of community that could have had a convoy of trailers at our farm driveway if we'd asked for it. You hope you never have to face the unimaginable, but we knew we never had to doubt the power of the community that backs us.
Pray for Oregon. These fires are still raging; many are still ripping through communities. In the first four days, the fires claimed over a million acres. Let that sink in for a minute. We are no way in the clear yet, and we won't quite have a grip on the magnitude of the devastation of this historic event for weeks.
---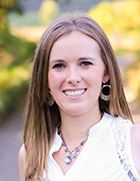 The author is a third-generation dairy farmer from Oregon where she farms in partnership with her husband and parents. As a mother of two young boys who round out the family-run operation as micro managers, Darleen blogs about the three generations of her family working together at Guernsey Dairy Mama. Abiqua Acres Mann's Guernsey Dairy is currently home to 90 registered Guernseys and transitioned to a robotic milking system in 2017.