I'm not going to lie to you: You haven't been my favorite year. Just like every January, I had all the big expectations. I was going to set the world on fire. What I didn't know was that you were going to set a dumpster fire that was just going to never stop burning.
You started out with the promise of somewhat better milk prices and multiple trips away from the farm. I had just started my Secrets of Ag project that was helping people in agriculture confront and deal with their mental health. Helping others get their issues off their chest was starting to help me and my mental health.
Then you happened and the world was literally on fire. The Australian and western U.S. wildfires were out of control. COVID-19 shut down everyone's lives. Tiger King was a thing. Politically, our country has never been more divided, and social/civil issues and injustices finally came to a boiling point. TikTok became ginormous but then was almost shut down by the government, all while kids and parents were navigating what virtual schooling would look like. At one point, we thought murder hornets were going to kill us all. We lost some pretty influential people — Kobe Bryant, Ruth Bader Ginsberg, Chadwick Boseman, Alex Trebek, and Eddie Van Halen all died in 2020.
A little closer to home, Dean Food's gave dairy farmers their last paycheck a few months late then tried to sue us for some of that money back months later. Thanks to COVID-19, milk prices bottomed out, and some farms were forced to dump their milk due to plants being over capacity with milk that had nowhere to go. So yeah, you have been a dumpster fire of a year. But you also kind of showed us the good like never before.
Thanks to you, humanity has shone brighter than ever. Neighbors are helping neighbors, people are reconnecting in new ways, and creativity has reigned supreme. As a nation, we are talking about mental health more than ever and being forced to work through our issues all because of you. Quarantining has made companies figure out how to get business done in new, innovative ways. Traveling is nonexistent and the environment is better for it. Families were forced to spend time together and maybe eat dinner around a table again.
Look, you've been hard on all of us. You've forced us to face our inner demons and our outer ones. You've made us think differently about everything in our lives. You've made us look for the good, and I think it's something we've desperately needed. I really can't wait for you to be over, but I also know that 2021 will unwillingly inherit too many of your bad habits. So, let me just say this: thanks for the life lessons, but seriously, get out.
---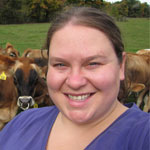 The author dairies in partnership with her parents and brother at Spruce Row Farm in Pennsylvania. Jessica is a graduate of Pennsylvania State University, and since 2015, she has been active in promoting dairy in her local community. You can find her and her 250 Jersey cows on Facebook at Spruce Row Dairy or on Instagram at @seejessfarm.