Wisconsin dairy farmer Carrie Mess, also known as Dairy Carrie, has been advocating for dairy farming and dairy products for the past 10 years. She's seen social networks rise and fall – does anyone even use Snapchat or Periscope anymore? – and she has one of the largest followings across multiple platforms among dairy farmers.
She's also worked with some big ag companies as well as local mom-and-pop restaurants. Carrie shares what it takes to work with them as a social media influencer, a creative, and a dairy farmer. You can follow Dairy Carrie via her
blog
,
Facebook
,
Instagram
,
Twitter
,
Pinterest
,
YouTube
, and
TikTok
.
You've been advocating for ag for quite some time. Can you tell us why you started?
I didn't grow up farming and had no connection to agriculture. When I joined my husband's parents on their farm and started learning about farming firsthand, I just wanted to share that knowledge with everyone. So, I started using social media to share all the neat things I was learning and answer questions I got from the people I grew up with who didn't know about farming, either.
What platforms did you use in the beginning? Are you still using those platforms today?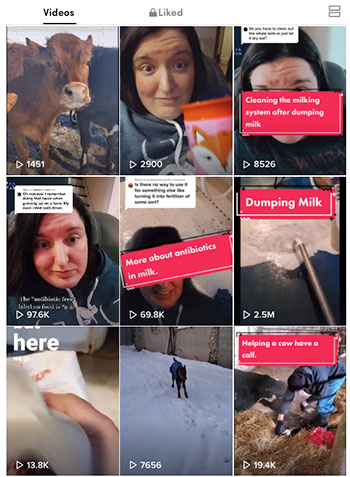 Before my blog came to be, I was very active on Twitter. I spent a lot of time there learning from other farmers and having conversations. Twelve years later, I almost never check in on Twitter anymore. As new social media platforms came into existence, I tried them all. Some didn't stick for me (Snapchat), and some did (Instagram). There's no way to have a real presence on all platforms, so picking and choosing to spend your time on your favorites is okay.
You've gotten a lot of opportunities to work with both consumer and ag companies as an influencer. Can you give us some examples of your favorite campaigns?
There are a few different types of sponsored content that I do. My favorites are where I work with a sponsor on a project that I've created, and they enhance in some way. Cargill has sponsored some of my "
Humans of Agriculture"
posts, which is something I was already doing, but they helped me to connect with more interview subjects. I also really enjoy covering conferences and events for sponsors. Often, there are tours or other events that are really interesting, and I get the chance to see how different parts of the country or world do things and meet interesting people. I've worked with Bayer and Alltech to cover events in Germany and France, places I always wanted to visit but wouldn't have been able to without a working trip to get me there.
Did companies reach out to you or did you reach out to them?
Mostly I have worked with brands that have reached out to me. Occasionally, I will reach out to a brand if it's something that makes sense. I have built some solid relationships with brand representatives that have brought me new opportunities when these individuals moved on to new companies. I recently created a media kit for myself with the intention to do more reaching out directly to brands.
What makes for an effective campaign when working with a social media influencer like yourself?
Allowing the creator to create the content that they know their audience will respond to the best is so important. Too often, brands want to micromanage the created content, and the end product doesn't fit the tone that the creator has. Take your ideas to creators, but trust them to create.

What advice would you give to a new agriculture advocate who is looking to work with consumer and ag companies?
Not every email from a brand is legitimate. I probably get 10 fake or scam emails for every one real email. If you have to pay for a product that they want you to promote, it's probably not legitimate. If it's something that doesn't really fit your brand, it's probably fake. If they are offering to write posts for you or pay you to include a link to their website on your blog, know that it is against Google's rules and could cause your blog to get blacklisted. As always, if it seems too good to be true, it probably is.
Anything else you would like to add?
Working with brands can be very rewarding, but I wouldn't say that it's an easy way to make money. It takes a lot of time, effort, and skill behind the scenes. I'm not discouraging anyone from trying, but I don't think most people understand just how much can go into a single Instagram post.
If you want to get started on social media and advocate like Carrie, I recommend you reach out to your
local dairy checkoff
and see how they can help you get started using social media to connect directly with consumers.
---
Don Schindler
The author is a Senior Vice President of Digital Initiatives at Dairy Management Inc.