Every ration needs a strong foundation, and for many dairy farms around the country, that foundation is a high-quality corn silage. That's why the
Hoard's Dairyman
bookstore set out to provide a resource to help dairy farmers grow, make, and feed a corn silage that allows cows to perform to their best ability.
A new 80-page book, Corn Silage: From Seed to Feed, was released this spring
.
The book is a collaboration between five expert authors with review by the team at Hay & Forage Grower and Hoard's Dairyman magazines. True to the book's subtitle, the first chapter details data and recommendations to keep in mind when planting a corn crop for silage. Joseph Lawrence, a dairy forage systems specialist with Cornell University's Pro-Dairy program, discusses the many options available and traits to consider when selecting a corn hybrid. Further, he covers planting decisions, emergence evaluation, and weed and pest control, in addition to general plant development and requirements.
Of course, a great corn crop must be properly harvested and stored to make great silage. In chapter 2, Brian Luck provides an analysis of modern forage harvester development and processing. The biological systems engineering associate professor and Extension specialist with the University of Wisconsin-Madison then explains the in-field considerations of kernel processing and field capacity and throughput. A worksheet with formulas for calculating theoretical field capacity and time to harvest is included.

The safety and efficacy of storing silage is covered by University of Wisconsin-Madison professor emeritus Brian Holmes. Here, the process of fermentation and best practices for minimizing storage nutrient losses are discussed. A variety of photographs illustrate effective methods for covering bunker silos.
Finally, University of Wisconsin-Madison ruminant nutrition extension specialist Luiz Ferraretto and dairy science professor emeritus Randy Shaver provide guidance on feed quality of corn silage and best feeding practices for lactating dairy cows, dry cows, and replacement heifers. Along the way, factors that affect feeding value, such as harvest maturity, dry matter and starch content, and length and height of chop, are covered.
Whether you are making corn silage every year or just want to learn more about a critical ration ingredient, this book can help answer your questions. It is ideal for dairy farmers, farm consultants, and dairy or agronomy students. The Hoard's Dairyman bookstore works with a number of colleges to provide detailed dairy information for classrooms, including offering a quantity discount for orders of 10 books or more for any type of group. You can get your copy of Corn Silage: From Seed to Feed today, and we hope it will be a valuable resource!

---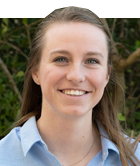 Katelyn Allen joined the Hoard's Dairyman team as the Publications Editor in August 2019 and is now an associate editor. Katelyn is a 2019 graduate of Virginia Tech, where she majored in dairy science and minored in communication. Katelyn grew up on her family's registered Holstein dairy, Glen-Toctin Farm, in Jefferson, Md.