If you think you've been observing more mustaches and beards on your male relatives, friends, and co-workers this month, you're not seeing things — we are nearing the end of "No Shave November." This cultural phenomenon has its roots in using facial hair to bring awareness to and raise money for men's health issues, and today, it is also a fun challenge for many men to grow out their hair and go without being clean shaven for a month.
You're probably wondering what in the world this has to do with agriculture. Thanks to some clever folks at the Natural Resource Conservation Service (NRCS), the call to keep the stubble that makes No Shave November so popular is also being used this month to encourage farmers to keep crop residue on their fields. It's also No-Till November, if you will.
The campaign was first launched by NRCS in 2017 to remind farmers of the soil conservation benefits of no-till as they remove crops from their fields and are choosing the next steps for their soil. It has since reached about 2 million people through local and online media.

"One of the first soil health principles is 'do not disturb,'" NRCS reminds in the campaign details. No-tilling preserves and improves soil biological activity, which can control erosion, promote water quality and infiltration, and provide nutrient benefits. Limiting field disturbance also builds organic matter and strengthens the soil's resilience to disaster events or a difficult growing environment.
At the same time, farmers are saving their time as well as money on fuel and equipment wear and tear. In fact, a recent USDA report estimates that by transitioning from conventional tillage to continuous no-till, farmers can expect to save about 3.6 gallons of fuel per acre. Practicing seasonal no-till by avoiding tilling for at least one crop results in a reduction of fuel usage of about 3 gallons per acre. At current diesel prices, that adds up quickly. And for the sustainably minded, using less fuel also reduces greenhouse gas emissions.
Currently, about 87% of all U.S. cropland acres are farmed with some form of conservation tillage, wrote Elizabeth Creech of NRCS. One-third of that total is continuous no-till.

If you are considering if no-till is right for your business and your fields, NRCS offers this blog that provides five tips to help you get started. They include:
Spread your residue during fall harvest.
Don't forget about cover crops.
Choose equipment with your end goal in mind.
Track results along the way.
Visit your local NRCS office.
As you read through the blog or maybe talk to a friend or neighbor who practices conservation tillage, consider what you want to get out of your soils. Although the official celebration of No-Till November is almost over, the benefits of the practice will last much longer.

---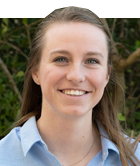 Katelyn Allen joined the Hoard's Dairyman team as the Publications Editor in August 2019 and is now an associate editor. Katelyn is a 2019 graduate of Virginia Tech, where she majored in dairy science and minored in communication. Katelyn grew up on her family's registered Holstein dairy, Glen-Toctin Farm, in Jefferson, Md.